Yesterday (Monday) was our first day of summer. While we were happy to be home and together . . . it wasn't exactly fun. In an effort to catch up AND get ahead, I declared it Cleaning Day and we tackled ALL the major cleaning tasks which we usually spread out over a week.
See ALL those scribbles down there at the bottom??
When I sat that's "usually" how we do it, I'm talking about how we do it in an ideal world, and we hadn't been living in an ideal world lately.
So it had to be done.
Or nobody would be inviting anybody over this summer.
Anyway, it was NOT a fun day, but Mama feels better. And now, these daily tasks we're focusing on for the summer will gain more traction.
After all that work, and after Hubby exclaiming about how clean the house looked . . . I still almost justified leaving this: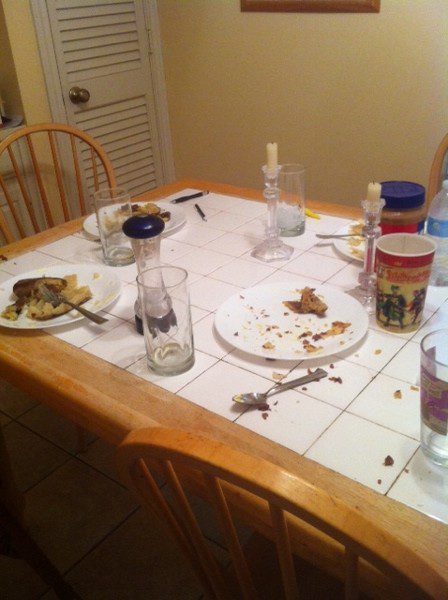 Right. My natural slobstinct was to justify NOT doing the dishes because "hadn't I done enough already??"
Don't worry. I went against every fiber of my being and took the less-than-five-minutes necessary to load the dishwasher and wipe down the table.
So this morning, I got to wake up to a house that actually looks like I spent ALL day yesterday cleaning. If I'd awakened to that picture above, it would have felt like I'd made zero progress yesterday.
Hmmmm . . .
Daily habits. They make or break this whole deslobification thing.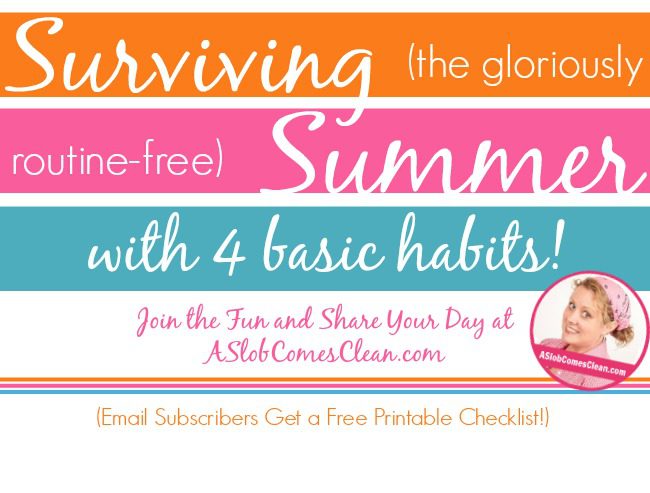 It's SUMMER!!!
I love this fun and crazy and unscheduled time of year with my kids, but the lack of routine sends my house into chaos!
For the summer, I'm focusing on the four simple habits that will keep (or bring) any home out of Disaster Status.
Here's how we did:
Do the dishes
Sweep the kitchen
Check bathrooms for clutter

Do a five-minute pick-up
Our extra task for yesterday:
Laundry (every last sock), Dust and Vacuum, Mop, Clean Bathrooms
How did you do today?
Share your own success and failures in the comments!
Don't forget that you can get your own copy of my Surviving Summer Checklist by subscribing to my email list. You can sign up for daily emails (only sent if I've posted something) or weekly summary emails. Plus, you won't miss a post! Click here to sign up for free.
If you're completely overwhelmed at even the thought of the four habits listed here, don't worry! I totally understand! I recommend my books: How to Manage Your Home Without Losing Your Mind and Decluttering at the Speed of Life for a step-by-step guide to getting your home out of Disaster Status.
If it's your first time at ASlobComesClean.com, welcome! Right now, we're totally focused on helping our homes survive the gloriously routine-free summer! Regular blogging will resume when school starts in August! Until then, find out what goes on around here the rest of the year by checking out my decluttering strategies (based on WAY too much personal experience) and my free printable checklists. See my advice on getting started.
And if you're worried about whether you'll fit in here, read this.
--Nony