I've already told you how I was in a funk on Saturday.
A what-is-the-POINT kind of funk.
Unfortunately, I know just how to cure those kinds of funks.
Declutter.
So I did. I decided I was FINALLY going to FINISH the HUGE project in my gameroom.
The one I'd been pretending wasn't noticable because of the screen in front of it.
I . . . am a master of delusions.
When I looked behind the (rather whompey-jawed) screen, I saw that "before" scene above.
So I started with what was easy. I put the over-flowing donatable Donate Box in the bigger box I'd designated for this project. Then, just like last time, I started going through the clutter item by item.
It's true I had big plans to FINISH this project that day. But . . . I still stuck with my methods that keep me from making a bigger mess than I had when I started. My big plans don't always work out the way I plan.
I found quite a few things that had a "where would I look for it first" place to go. So I took them there.
Photos go in the photo cabinet, and office supplies go in the newly designated office supply drawer.
Oh, the temptation to put those photos in albums . . .
But that wasn't my project for the day. And now, once I get into the mood to organize pictures, I'll know right where these are!
And then there were the angsty items. The things that were in that corner because I wanted to keep them. See, that corner is very near the ONLY storage cabinet in my entire house.
Blech.
So I opened up that cabinet just to see if anything in there was easy. Y'know, so I could make room for these not-easy things.
I decided these frames I got at a garage sale (at least four years ago) but that I'd never painted or used could go. They were easy.
(Not easy the first three times I kept them during other decluttering projects, but easy now. And that's okay.)
And then there were just a few things left:
Upon closer inspection, they even turned out to be easy!
Pre-school learning stuff (that my kids have outgrown) and my postal scale (from my eBay days).
I was sad, but I put the ENTIRE box of learning stuff into the Donate Box. Plastic tub and all. I smiled, thinking of a young mama being so excited to find ALL of it together in a thrift store, in its very own box! (Not that the thrift store people will keep it together, but I can daydream it however I want!)
And the postal scale had a "place where I'd look for it first" right on top of the bookshelf nearby.
Here's the after picture:
Except it's not a "done" picture.
Because up on that cabinet to the left? This:
Blergh.
Item by item, I donated, tossed and relocated everything on there.
Ahhhhh, much better: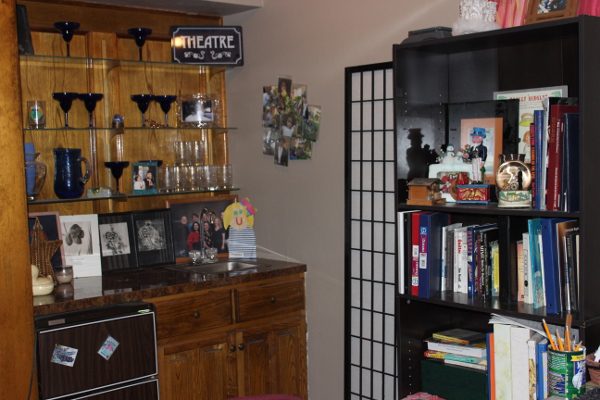 From the original angle:
And I'm  . . . a Happy Declutterer!
What have you decluttered lately?
--Nony