Last week, as we were barely hanging on in the midst of final-week-of-rehearsals craziness, I was experiencing what you might call . . . despair.
A toilet had overflowed because a child claimed there was no toilet paper left in the house and had therefore chosen to use a paper towel.
Even though there was toilet paper in the house.
Actually, there was toilet paper in the cabinet four feet away . . .
That, plus tripping a few more times than normal, meant I was in a why-oh-why-can-I-NEVER-ever-get-the-whole-house-clean-at-the-same-time funk.
Saturday morning, in an attempt to regain sanity, I declared it was Bathroom Cleaning Day and gave out assignments. The boys took care of their (particularly scary) bathroom, the girl cleaned the half-bath, and I did the master bathroom.
And that was when I saw a little glimmer of hope. My 12yo declared that he and his brother did NOT need the laminated Bathroom Cleaning Checklist anymore. They KNOW how to clean a bathroom thankyouverymuch.
Well, okay.
I'm not going to argue that one.
And I felt a little bit better.
My despair comes not just from my house turning disastrous once again, but from the fear that my example to my children has once again failed. That there's no hope whatsoever for them to NOT struggle like I do.
But the focused (though not necessarily consistent) efforts I've made have paid off. They know how to clean a bathroom. And they know that they know how to clean a bathroom.
Keeping it clean? We're still working on that whenever mama remembers to work on that.
And then? After cleaning her room on Saturday, my daughter told me  that when she woke up on Sunday she noticed her room was messy again.
"So I did a five-minute pick-up!"
Be still my Slob Mama Heart!!!
I honestly hate that I can't be the Slob Blogger who gets it together once and for all and then tells everyone else how to be perfect too. But I can say that even in the midst of continual failures, fits and bursts of focused child-training and just keepin' on keepin' on is worth it.
My kids are watching me. They watch me succeed, they watch me fail. And then they watch me get up and start again.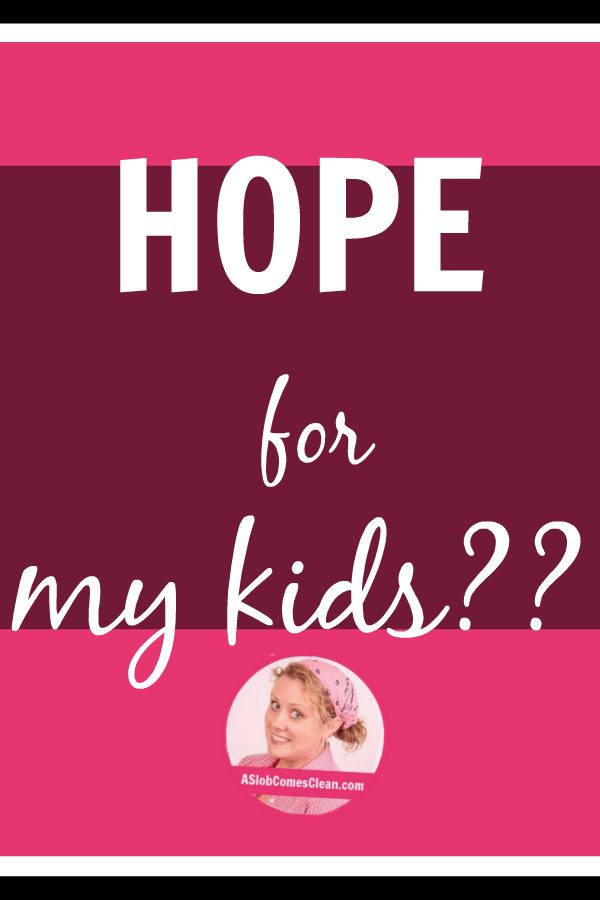 Since it's that time of year (SUMMER!) when I focus on teaching my kids cleaning skills, I'm recommending my e-book Teaching Kids to Clean.

Save
--Nony