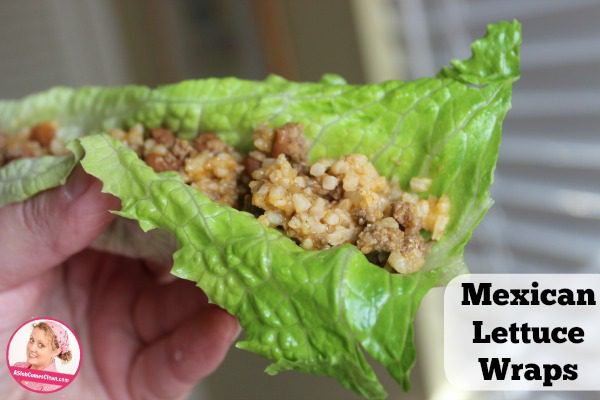 This was one of those meals that was totally made-up and actually turned out great.
I was excited.
I do lots of made-up meals, but they don't always turn out great. 
I decided, impromptu, to make my Mexican Casserole out of my pre-cooked, frozen ingredients.
I started pulling things out of the freezer and throwing them into the skillet when I realized I didn't have any corn. Not that corn is totally necessary, but I was irritated. (This happens a lot.)
And while thinking of what to do and what veggie to include, it hit me that this stuff would make a great filling for a lettuce wrap. Or lettuce taco.
So here goes.
Ingredients:
Pre-cooked and frozen rice
Pre-cooked and frozen ground beef
One can (or the equivalent of precooked and frozen) chili beans
One package (or the equivalent) taco seasoning
Oh. You want amounts? Sorry. I have no idea.
Instructions:
In a large skillet, combine partially thawed (one minute at a time on 10% power in the microwave until crumbly) rice and ground beef with the beans. Add taco seasoning and 1/2 cup of water.
Stir until hot and bubbly.
Serve with lettuce leaves as the taco shells.
Tell your kids that if they don't want to eat it that way, they can tear up their lettuce leaves for a salad and eat the filling with a fork. Add in a lecture about kids who don't get enough to eat and would be happy to have a lettuce wrap.
Save
--Nony