A few weeks ago, it took forEVER to clean the house for our weekly church home group meeting on a Sunday night. This was because the meeting hadn't been weekly for several weeks due to weather-related-cancellation and spring break and such.
Right. I'm saying that even though my house is infinitely more livable than it was pre-blog, and even though I've figured out how to keep the kitchen and living areas under control, I still let things go waaayyyy too far when life is crazy and there are no impending doorbells for an extended period of time.
Anyway . . . as I worked in the kitchen, I actually thought something like this: "I'm going to count on the fact that no one will need to use my microwave tonight. Surely, there will be no reason for anyone to look in there . . . "
Even though people often bring food. And people occasionally need to use my microwave.
It was a gamble, and I lost.
Sure enough, the evening's chef encouraged people to microwave if needed.
So I began nonchalantaly blabbing about my hideous microwave. As I tend to do.
"Did you know spinach explodes?" I said.
I just didn't mention how long ago our spinach had exploded.
People were understanding and allowed me to do any microwaving needed so I could keep them from seeing the green-leafy hideousness.
And then the next Sunday afternoon, as I did MUCH less cleaning since I was only working to recover from a single nowhere-near-as-crazy week between doorbells, I happened to notice my microwave again.
Equally as green-and-leafy as the week before. It hadn't bothered me one single time during the week between. So I cleaned it. I microwaved a bowl of water with a squirt of lemon juice in it and began scrubbing. In just a few moments it looked like this: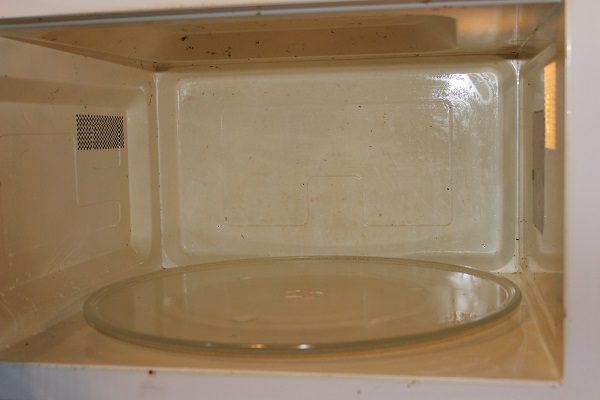 Far from perfect but oh-so-much better. (It will never be beautiful again after a certain child hit 14:55 instead of 1:45 when making popcorn a few years back!)
But this post really isn't about how quickly I can clean my microwave once I get after it, it's about how my motivation was that I couldn't pull off the same excuse two weeks in a row.
People are willing to laugh about how messy your microwave is, but the second week it's not as funny. And that second week, you can no longer hope people will assume that it just happened a few days ago and not a few weeks ago.
Mmm-hmmm.
--Nony