The idea of Spring Cleaning used to send me into a funk.
I could not see the point.
The corners and rugs and shelves that were begging to be deep-cleaned would have had to be unearthed first. Decluttered.
I would stick my fingers in my ears and close my eyes and sing gibberish until the season passed.
Not really. But almost.
But now that a large portion of the house is consistently livable (we're pretending the master bedroom doesn't exist, K?), my psyche is more open to tackling long-ignored issues brought to light by the spring sunshine.
Like this dusty curtain.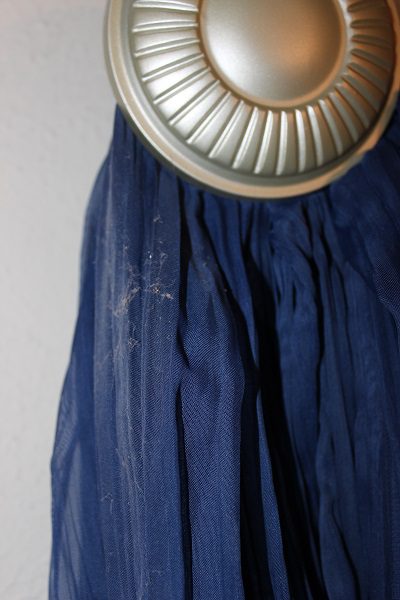 I doubt the dustiness was sudden, but it seemed sudden. As in, I hadn't noticed starting-to-get-dusty, or a-little-dusty or even just-plain-dusty.
I never even saw it until it was oh-my-word-how-did-it-get-that-dusty-dusty.
Having a laundry routine means laundry no longer overwhelms me. Laundry no longer overwhelming me keeps me from stamping my foot or blinking back tears at the thought of running a non-essential (translated: non underwear-containing) load.
So I climbed up on a sturdy chair and took that blue curtain down.
I stuck the curtain in the washing machine. I did check (though I was going to risk it anyway) to see that the tags said it was totally washable. Once the blue drapey-thingy-part was washed, I sighed deeply (a sigh of the martyr-ish-type) and decided to also wash the white hangy-downy-part as well.
That part? Oh, I'd noticed the smudges and splatters and chocolate handprints before. I'd just successfully ignored it.
I smiled into the darkness in case any neighbors happened to look into my now WIDE OPEN FOR THE WORLD TO SEE dining room. And I tried not to make too much of a grunty-face when climbing down from the chair. Sucking in my stomach, I walked gracefully out of the dining room.
I washed it, and then I hung (or hanged? I so don't care) it right back up in its home to just dry right there. Yay for curtains that are supposed to be wrinkly.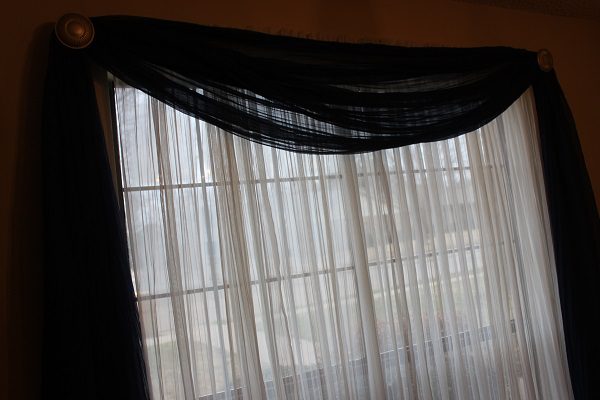 And those curtains look so much better. And I feel so much better.
Even though no one else has noticed. Even after I strongly encouraged them to notice.
I'm going to look for other a-little-at-a-time spring cleaning projects. How about you?
Save
--Nony