Monday was an Ice Day for us. On Sunday afternoon, as ice began to pour down from the sky, I had a thought.
The thought? "If tomorrow is an Ice Day, I shall bake bread."
I'm not sure what ice and bread have to do with one another, but it's what happened.
I have had visions of being the mom who bakes fresh, homemade bread on a semi-daily basis. I'm pretty sure that the vision also had inset images of me planting the wheat and harvesting it and grinding it and such.
And being completely unaffected weight-wise by all this delicious slathered-in-butter hot, fresh bread.
Alas, other than the occasional bout of breakfast pocket freezer cooking, and the yearly tradition of rolls for Thanksgiving dinner, it hasn't happened.
I don't know that I had ever (before Monday) baked a plain-old loaf of bread.
And I've definitely never harvested wheat. Not even a little bit.
But recently, I randomly noticed a jar of yeast in my baking cabinet.
So Monday, I decided to get "that" jar of yeast out and get to work.
And that was when I realized that I didn't have a jar of yeast. I had three. And all three were expired.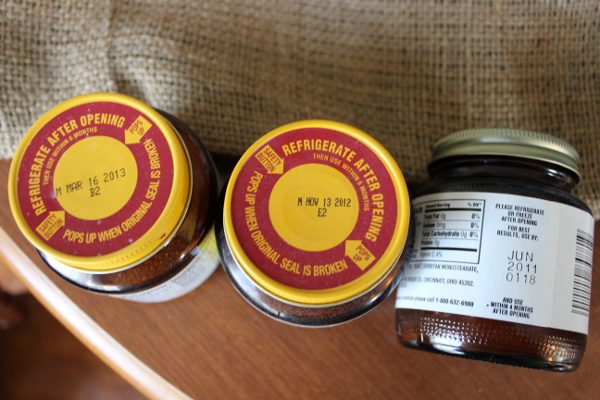 The most-recently-expired one . . . expired almost a year ago.
Oops.
I guess I've had these bursts of bread-baking energy before. But the last one was a rather long time ago.
Obviously.
I was pleasantly surprised when the yeast got all bubbly like it is supposed to. I then proceeded to use the past-its-expiration-date-by-almost-a-year yeast to make some very lovely homemade bread which was a huge hit with the whole family.
I threw the other two jars of yeast away. I debated with myself over testing them, but decided against it. The jar I kept has enough in it for at least four more bread-baking sessions, which will likely last me until that jar is two-years-expired.
And that's if I suddenly start baking bread (or breakfast pockets, or whatever) four times as often as I have in the past more-than-a-year.
I'm hopeful, but not convinced.
--Nony