I can think about and hem and haw over changing up something in my home for, ummmm . . . a really long time.
Then, we have a party or a special guest or something bigger than your normal Girl Scout meeting and I suddenly look at my home through brand new eyes.
Last week, I shared about my big entire-house-shake-down as I got ready to let a news crew come inside. Now it's over, and the clean-and-shiny results are looking less clean-and-shiny, but a few changes have lasting results that still make me smile.
They were kind of like two-second tasks that involved going to the store and spending money. (Things that generally prevent me from getting two second tasks done.)
First of all, I had no idea what I was going to do about the two inches of awfulness that separated the bottom of my new-but-not-so-new-anymore-after-a-whole-year vent from the top of the tile backsplash above my stove.
No idea=not doing anything for a year
So I wandered around Home Depot and inwardly groaned as I imagined myself buying a ten-foot-long piece of two-inch-wide wood and sawing three feet off and painting it white and . . .
(See how I build things up in my mind?)
But then I happened to run into a lovely friend from church who works there, and she took me to these: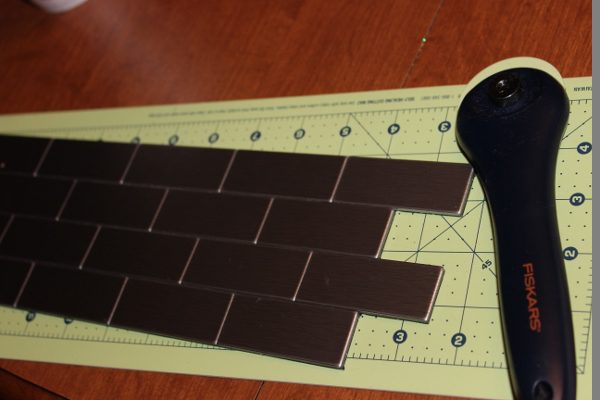 For fifteen dollars, I got more than I needed of these little, silver, stickable tiles that matched the stainless steel hood. Not ideal, but totally fine!
And then, as we were leaving, we passed the area rugs.
I glanced at one that made my heart ache in longing. As I was running my hands over it and dreaming of one day replacing my no-longer-so-shaggy shag rug, my 10 year old said, "Hey Mom, this is what our rug used to feel like!" as he snuggled up to an actually-shaggy shag rug.
Hmmmph.
I went home and thought and dreamed, and stopped by Home Depot the next day to buy my new rug.
After rolling up the new one, cleaning underneath it, and various feats of strength . . . I had a totally new look for my living room.
Aaaaaahhhhh.
Oh, and the last one involved no money at all. It simply required me to put the pictures back on the wall after months of them being gone. And no. I have no memory whatsoever of why I took them down.
Oh. Did you wonder what I meant by "various feats of strength"?
Welcome to my world.
Do you end up redecorating for big events?
--Nony