Monday (I can't believe I haven't posted in two days), I shared that Paula was coming.
She came, and I was ready to open the door and let her walk right in.  This . . . is a big deal.
I used my own How to Clean a Messy House Checklist, and today I'll share how Step Two went.
Step Two: Make a list of rooms, by priority, according to where guests will spend the most time. Also look for tasks in each room that are not covered by normal cleaning.
This list (which has a printable, fill-in-the-blank version over on the full post), was a life-saver.
I know. I personally created the list and the printable, so I'm kind of bragging. But really . . . it's awesome.
It kept me focused. I tend to get crazy as I'm trying to tackle a huge and daunting job. Distractions happen so easily. Suddenly, my time is gone and I've sorted my sock drawer instead of mopping the kitchen floor!
I printed out the worksheet and wrote down the rooms that Paula would see.
I knew she would spend most of her time in my kitchen, so that took the #1 spot. I envisioned sitting together in my dining room, and even though this didn't happen, we walked through it so I'm glad it was clean.
The living room was a given, and the gameroom needed attention since that's where the half-bath is. (Y'know, the one bathroom I would actually let her and her friends use.)
And then there was the entryway. I put it at #4 since they'd see it for sure, but wouldn't necessarily spend time there.
But really, I worked on the entry way before I did ANYthing else.
As my life of irony goes, the weekend before (when I had no idea Paula was coming), I randomly decided to begin tackling a project I'd put off for more than seven years. I half-primed my entryway. So while never-in-a-million-years would I have decided to paint my entryway for Paula, I did feel the need to finish painting it.
And that . . . took most of two days. One day (afternoon) was spent finishing the priming, and the second was spent painting.
Whew.
But in the single day I had to completely devote to my checklist, I was so glad I had it. I can't tell you how many times I started to drift off into another unnecessary project.
Or I'd find myself staring into space, not knowing what to do next.
I just went back to my list. Again and again.
Step Two is about making decisions. I walk through my home and observe it through my guest's eyes. I see the ceiling fan dust that didn't bother me yesterday.
I stop pretending the two inch gap between the top of the backsplash tile and the bottom of the "new" vent (that was installed LAST YEAR) isn't that noticeable.
Step Two also helps me be realistic about where I need to spend my finite time and energy.
The nitpicky parts of the list are important, but equally important is the prioritization process. By listing rooms in order according to how much time will be spent in them, I shake off that (irrational, but oh-so-real) urge to clean out the linen closet while dirty dishes sit in the kitchen sink.
Stay tuned as I share how I worked through the rest of the steps.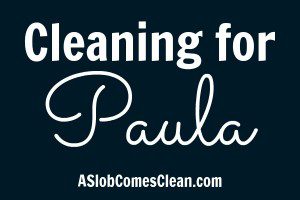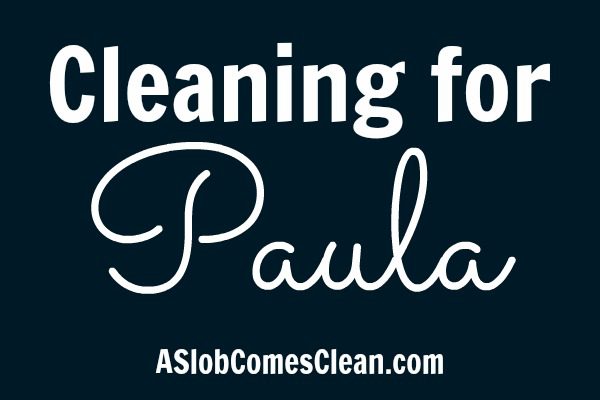 Still wondering who Paula is? I'll reveal next week.
Hint: It's not Paula Abdul.
--Nony