We've been doing our Family Kitchen Clean-Up Time for three whole weeks now.
We get off track on the weekends, but during the week we're pretty much rockin' it.
And . . . it's fun.
I know. So strange. But really, one of my biggest excuses/reasons for not cleaning up the kitchen in the evening is that I hate missing family time.
This way, Kitchen Clean Up IS family time. For real.
It's provided lots of conversations, quite a bit of laughter, real-life counter-wiping training, and barely any tears.
With five people, it gets a little crowded, so we've expanded into lunch-making.
Which . . . is my six-year-old's dream come true.
Seriously. Turns out, I could have put peanut butter, jelly, and a loaf of bread in her stocking and she would have been happy.
So last week, on my birthday, I was cooking supper. (Don't feel bad, we partied hard the day before.)
I made something that took a lot of prep and then went into the oven for 30 minutes. So . . . I was kinda, sorta done 30 minutes before we were going to eat.
The kitchen looked like this:
I was tempted.
SOOOOO soooo tempted . . .
. . . to leave it that way. Knowing that we had a scheduled Clean Up Time, it just seemed so logical.
I know. It's not actually logical. It's Slob Logical. And that's how I roll . . .
But then I looked at the timer for the casserole in the oven:
And I started doing just a few things. Throwing away trash. Putting things back into the fridge.
When the timer said this:
The kitchen looked like this: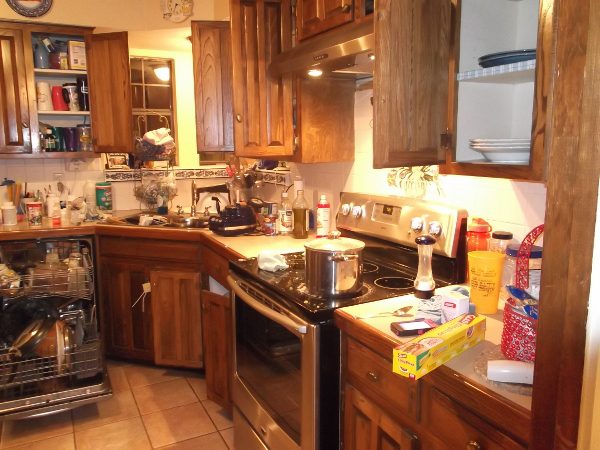 Slightly better. And a little less overwhelming for the family.
And . . . if you happen to see my phone on the counter, you'll notice that I spent part/most of this time on Facebook.
Then . . . I decided to add one final touch, just for Hubby's sake:
Which took all of 30 seconds. Including picture-taking.
Hmmmph.
For detailed guides on managing your home and decluttering your stuff, check out my books:How to Manage Your Home Without Losing Your Mind and Decluttering at the Speed of Life.