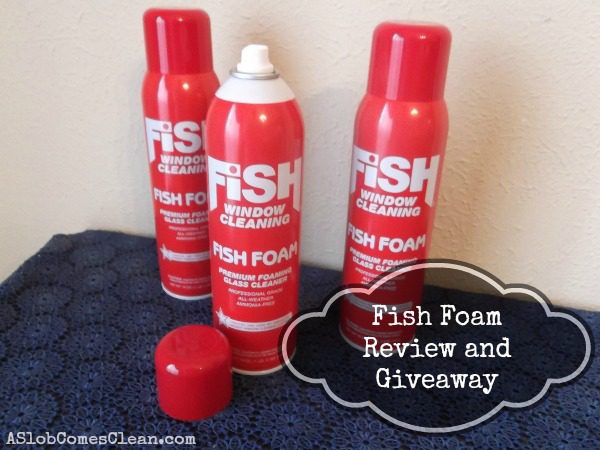 Random Observation #1:
It makes me giggle that as a Known-to-the-World Slob (seriously, I know I have readers in Germany, Egypt, Serbia, Lithuania and more), companies ask me to test out their cleaning products.  It's great motivation to clean!
Random Observation #2:
Taking pictures of dirty windows is hard.  You know how a window can look perfectly fine until the moment when the sun hits it just so?  (Which is always right when people are walking up to your door?)   I struggled to get good before pictures for this review.
Let me assure you . . . my windows/doors had smudges.  Icky smudges.  Smudges that make me scratch my head and wonder how exactly they got there.  And occasionally . . . they have (purposely) unidentified, extra-sticky substances in small nostril-sized globs.
So gross.
Anyway, when I got the chance to review Fish Foam Premium Foaming Glass Cleaner, I figured it was great motivation to clean my windows.
My pictures are of one specific window space where I was able to get a good picture of the finger prints/wipes.  There's a screen outside the window.
I sprayed the Fish Foam:
It's really foam.  I know.  I was surprised the first time I used it, too!  The can doesn't say to wait, so I didn't.  I wiped it off immediately using a microfiber cloth.
The smudge was immediately gone without any extra effort.  The splat was gone too.
The unseen (thankfully), nostril-sized, unidentified, extra-sticky substance took minimal extra wiping to get it off.
I was pleased.
I also cleaned my front door.
 Here's where my only "concern" came in.  My microfiber cloth was saturated and dripping foam before I was done wiping off the door.  I grabbed a cloth diaper (clean and unused for at least the last 5 years, thank you!) and continued wiping.  It was saturated as well by the time I got done wiping both sides.
Not a big deal, but if (that's a big IF) I was going to clean all the windows in my house at one time, I'd need a big ol' stack of cloths for wiping.
Or . . . I would get one of those squeegee things.  In fact, I've just decided in this very moment to get one of those if I ever do clean all my windows at once.
IF . . . .
I left it like this:
Can you see the teeny bits of foam left?  When I came back after a few minutes, the door looked extra clear and shiny.
I was happy.
So who wants to win their own three-pack of Fish Foam Premium Foaming Glass Cleaner? 
It really is cool stuff.  It's professional grade, all-weather, ammonia free, and was created by America's largest window cleaning company.  They use it, too!
Oh, and it comes in a pretty red can.
You can read more about it and order at Fish Foam's website.
GIVEAWAY HAS ENDED. To enter the giveaway, just leave a comment telling us when you last cleaned your windows.  (Be honest!)
One comment per person.  Sorry, but my international friends (though mentioned above) are not eligible.  U.S. residents only.  This giveaway will end at 9 pm Central on Tuesday, January 29th, 2013.  The winner will have 48 hours to respond to the email notifying them of their win, so PLEASE use an email address you check daily.  See all my giveaway guidelines here. 
The prize is provided and shipped by Fish Foam.  I was given three cans of Fish Foam to facilitate my review and was compensated for my time spent writing the post and organizing the giveaway.  The opinions and experiences are all mine.  The unidentified nostril-sized substance is most definitely not mine.