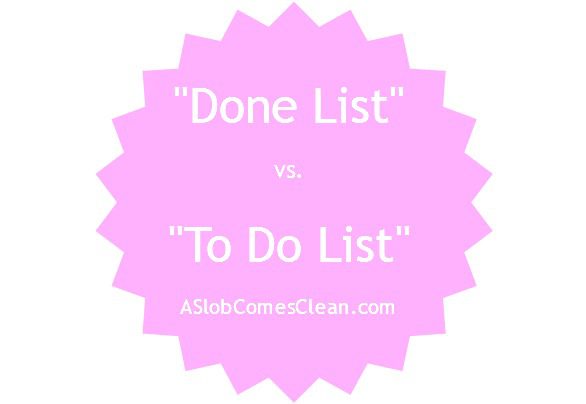 I do much better at making a list of things I've already accomplished than at making lists of things I need to do.
Y'know, since it doesn't really matter if I misplace the Done List . . .
As I begin 2013, I'm looking back at the things I did in 2012 as way to remind myself how much can be accomplished in one year.
1.  I rearranged/created the gameroom.  I absolutely LOVE how this room has worked out.  By giving the room an identity, our home's overall livability has improved.  It was a project that got on my nerves most of the time, a project that I wasn't able to do as "properly" as I wanted, but our family has greatly benefited from the fact that I did it imperfectly.
2.  I emptied the master bedroom and made big changes in there.  I'll post the series finale of the Master Bedroom Saga soon . . .
3.  UPDATE: Since this post was originally published I've also written two, for-real-hold-in-your-hands books which include the information I wrote in my original e-books. How to Manage Your Home without Losing Your Mind and Decuttering at The Speed of Life are now available wherever books are sold. I wrote three e-books.  Seriously.  And that's one of the reasons why I needed to make this list.  It wasn't until I stopped to think that I realized all three e-books I have written were written in 2012.  I began 28 Days to Hope for Your Home at the end of 2011, but finished writing and released it at the end of January.  Teaching Kids to Clean was released in May, and Drowning in Clutter? was released on December 30th.  (No wonder I'm so tired.)
4.  My blog became my business.  This is partly because the e-books have allowed me to make a small income from it, but also because I started viewing it as a business.  I had to so I'd have the courage to say no to all the other things that I could be doing.
5.  I started writing scripts again.  If you've been around here long, you know I was a Theatre teacher.  The stage is where my heart feels at home.  I've been writing scripts for drama at my church.  I've also remembered how much I love doing that. 
2013 To Do List
(No numbers on this one because the order isn't set in stone!)
– Go through the house and re-declutter.  (Complete with webisodes . . . )
– Start podcasting.  (Here's a radio interview I did recently!)
– Decorate my entryway using the fabulous theme I thought of about two years but have never even started.
– Paint.  (Playroom floor, kids' rooms, and more)
– Get my other e-books up onto Amazon.
– Set up a website to begin selling the scripts I'm writing anyway.
– Set up another website that Hubby and I want to do together.
I don't know what 2013 holds, so this list definitely doesn't cover everything I hope to accomplish in it.
These are the things I know need to be done.  In my dreams, I'll accomplish all of it next week.
Har-dee-har-har-har.
Oh, and then the other thing/goal/dream on my list?  Write a book.  Like, a real one that's on paper and everything.
Have you looked back on 2012 or ahead to 2013?  What is on your Done List and your To Do Lists?