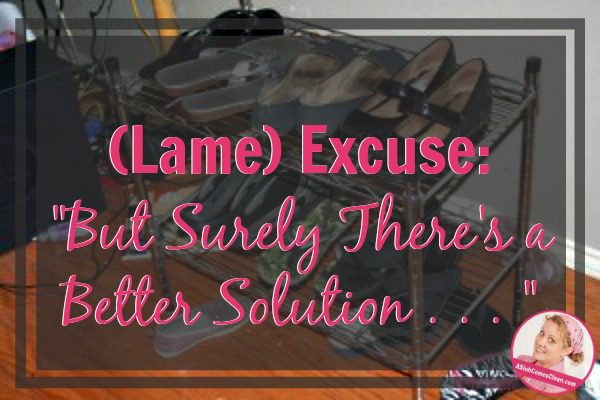 Recently, my 10yo said, "Wait, isn't that the same shoe shelf we used to use?  Like . . . a really long time ago?"
Why yes.  It is.
Do you remember the extreme decluttering of the shoe bench/cabinet that TOTALLY didn't work?
At all?
Well, way back when . . . that shoe bench was a replacement for this shoe shelf.
We had this shoe shelf for years, and even though it wasn't perfect by any means, I could tell my kids to put their shoes on the shoe shelf, and they could . . . put their shoes on the shoe shelf.
There was a place for shoes.
But then I became enamored with that stupid white bench and the IDEA that it would be so nice if we had a closeable place where shoes could be placed neatly and hidden completely.
Except that it never worked.  If we ever put shoes in the bench's closeable shoe section, we never thought to look in there again and those shoes were officially "lost" and much drama ensued when we needed those shoes again.
And the handy-dandy flat surface became a high-powered Clutter Magnet.
It was a disaster, so I got rid of it.
But that is the spot where shoes come off, so it became our official shoe pile.
Which was somehow still better than the white bench.
But when I was rearranging some things during the Master Bedroom Saga, I saw that old solution.  The metal shelf.
And whatever it was doing wasn't as important as what it did in its days as a Shoe Holdin' Shelf.
Even though it wasn't a perfect solution, it was a better solution than a pile.
So I went back to it.  I'm sure a better solution is out there to be found, but there's something to be said for a Better Than Nuthin' solution.