It's the last day of October, and the last of my posts in this series.
Not the last post about a lame excuse, I'm sure.
I thought I'd end on a classic.  Not the good kind of classic like I Love Lucy or Jane Eyre.  The "Classic!" that a child of the 80s uses to describe something that's just oh-so-typical.
On Sunday, after a full three days of working on my in-laws' garage sale . . . I was tired.
Like, I-can-barely-keep-my-eyes-open tired.
And this tiredness was causing me to resent the need to pick up the house for that night's home group meeting.  I hadn't been home for more than 10 hours in the past three days, and the last thing I felt like doing was dusting and vacuuming and such.
But . . . with the help of my kids and Hubby, I did it.  And of course it took much less time than expected, and of course I felt much better when it was done.
Or almost done.
Because after all that effort, I found myself resisting (kind of like a bratty two-year-old) wrapping up the vacuum cleaner cord.
I just.
Didn't.
Feel like it.
I wanted to be done.
But I did it.  Because I recognized it as a lame excuse.
So I guess this series was a success.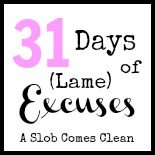 Save