Once upon a time I was a garage-sale-aholic.
Dimes and quarters flew from my fingers as fast as I could dig them from the bottom of my purse.
The only problem One of the problems with my addiction was that I based many of my purchasing decisions on coolness.  If it caught my fancy, I'd grab it.
Never stopping to consider whether I needed it, where I would put it, or if in fact any other human being on the planet would see its worth.
I was convinced that if I only had this item . . . I'd be able to find a use for it someday.
Even if someday was weeks/months/years away and the item spent those weeks/months/years as . . . clutter.
I loved that green bottle in the picture above.
It's cool.
But I had nowhere to put it.  So it sat on the edge/ledge of my master bedroom fireplace for years.  It was by itself, NOT artfully displayed . . . and looking rather strange in that spot.
When I removed it from the master bedroom during my horrible, terrible, very bad EXTREME master bedroom saga, I felt the pain.
The painful tug at my heart that told me I couldn't possibly get rid of this green bottle because it's just so . . . . cool.
Y'know, if you look past the dust.  And you imagine it artfully displayed.
Since it was one of the but-I-really-do-love-this-so-I-must-totally-keep-it-for-sure items, it went to the gameroom to await its artful re-entry to the master bedroom.
But when it came time to put things back, the green bottle looked different to me.  I saw the dust.  And the fingerprints within that dust.
I saw how it didn't make sense to put it back on the edge/ledge of the fireplace and I could no longer pretend that I'd find the perfect place for it someday.
If there was no perfect place in this Clean Slate Room, it was never going to happen.
Or even if it could happen eventually . . . the dream wasn't worth it.
Wasn't worth the frustration of seeing it as clutter for the next who-knows-how-many years.
Clutter isn't cool.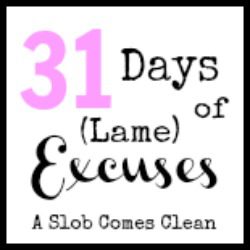 Save
Save