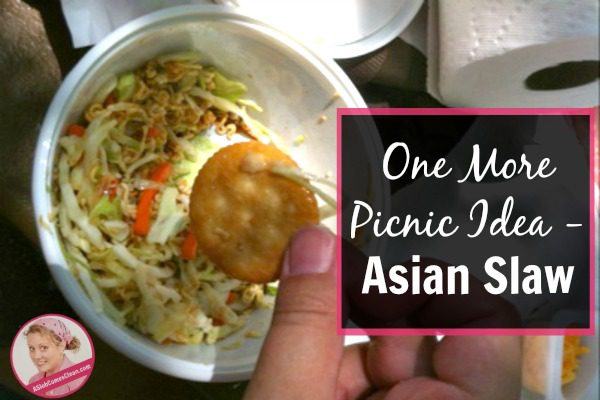 Last week we made our annual trip to Six Flags.
It was hot.
Thankfully, it was fun, too.
I love our mid-day trek to the shady picnic area that's just outside the park.  (I also love the money we save by eating that way!)
The night before, we'd had Asian Slaw for dinner.  I packaged up the leftovers by putting cabbage in one container, dressing in another, and crunchies in a bag.  We kept it in an ice-chest, combined the ingredients when it was time for lunch, and ate straight out of the containers.
(We're fancy like that!)
We were feeling pretty smart . . . until we realized we'd forgotten to bring any forks.  Thankfully, Ritz crackers do a pretty good job as Salad Scoopers.
Our menu this week is based primarily around what we received in our Bountiful Baskets pick up this week: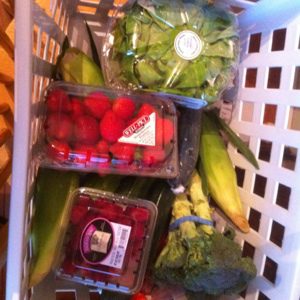 Monday – Grilled chicken and Zucchini Casserole (FABulous stuff!)
Tuesday – Spaghetti
Wednesday – Meatball Gyros (from Eat at Home's Feast in 15 e-cookbook! )
Thursday – Date Night
Friday – Another Date Night (We take full advantage of Grammy taking the kiddos!)
Saturday – Grill out
Have you seen my other picnic recipes?
The Feast in 15 link? That's my affiliate link!