I'm excited to have some guest posts over the next week or so while I'm unplugged and on vacation with my family.  And I'm even more excited to kick off with this post from Patty Gardner of homemakersdaily.com.  I love this post!  It's such a great example of real-life for real-people!  And it's exactly where I'd like to be someday!  I hope you find this post as encouraging as I did!
Clean on the Outside, but Messy on the Inside
and I'm okay with that!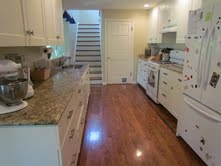 If you were to stop by my house unexpectedly, you would probably find it in pretty good shape.  There might be a few dishes in the sink, but other than that, things would look pretty good.
However, before you start congratulating me for my outstanding housekeeping skills, I need to tell you a secret.  Okay, here it is – My house may look clean and uncluttered on the outside, but on the inside, in the closets and drawers, it's not organized and uncluttered at all!
Here's the thing.  I love the way organized drawers and closets look.  I do.  When I see them in magazines and on blogs, I drool over how beautiful they are.  But I have at least two problems:
 I can't get them to look like that; and
Even if I did get them to look like that, they'd stay organized and beautiful for about one day – maybe.  I just don't have what it takes to maintain beautiful closets and organized drawers.
Before you start thinking I'm a hypocrite and want to trick people into thinking I'm a better housekeeper than I am, let me explain.  The reason I keep the outside clean is because I like it that way!  I can't stand seeing clutter or messes.  They drive me crazy and keep me from being able to do what I need to do.  So I don't keep it tidy for others (not completely, anyway), but I do keep it tidy for me (and husband who likes it clean and uncluttered)!
Did you catch the wording I used in that last paragraph?  "I can't stand seeing clutter or messes."  That's the key!  If I can't see it, it doesn't bother me.  Most of the drawers in my kitchen are messy.  And my bathroom closet is messy.  And my dresser drawers are moderately messy.  And the dresser drawers in the family room are messy.  Every now and then I straighten everything but it never stays that way.
The bottom line is that I don't care.  What I can't see doesn't hurt me.  But I do have a few rules:
 Every drawer or closet has a purpose.
Everything in the drawer or closet must relate to the purpose.
Drawers & closet doors must be able to shut easily.
Nothing must stick out of the drawer or closet.
Nothing must fall out of the drawer or closet when you open it.
If the mess in the drawer or closet starts to irritate me or make me mad, the drawer or closet must be cleaned ASAP.
And that's how I roll.  I keep what I see clean and uncluttered and I don't worry about what I can't see as long as it follows the rules.
Patty Gardner is a full-time homemaker, wife, mom, grandma, and pet owner who started Homemakersdaily to share some of the things she's learned during 30 years of homemaking. The daily articles are directed toward homemakers in all phases of life. What you'll find at Homemakersdaily is practical, nitty gritty, to-the-point articles to help you in your everyday life as you try to stretch your budget and your time and make a home for your family!