Thanks to Discount Cleaning Products for sponsoring this series!
I'm sitting down to write about our first week of the 2012 Summer of Clean, and just above the laptop screen I see . . . clothes.
They're sorted, they're ready to be put in drawers or in storage.
But they're not.  Not in drawers or in storage.
(pause)
OK.  I'm back.  It's twenty-five minutes (or so) later and the clothes are put away.  Unfortunately, there is another small stack in their place.  This stack is made up of clothes I found when I opened up the storage container to put the school clothes away.
Grrrr. Now we have some swap-outs to do in the morning to keep with our 8-outfits-per-kid-for-the-summer theme.
I wasn't in the mood to do that after 9:30 at night, but I'm glad I did.  With that done, I'm now happy with our first week of the 2012 Summer of Clean.
Our Grade: B
I'm struggling with adjusting my daily routine to the rhythm of summer.  But overall, I'm happy because our undies are clean and the bathrooms look better than they have in a while (which isn't really saying too much).
Today, I focused on the clothing thing and answered the ba-jillion questions/accusations about how Monday is supposed to be Laundry Day so why are we doing this on Thursday.
I was logical and repetitive, if not overly patient with my answers.  Life lessons, yep . . . life lessons.
I'd love to hear how your week went!  Did you involve your kids in any cleaning tasks?  Did you face any unexpected challenges?  Did you come up with any great ideas we might all be able to try?  What grade did you give yourself?
Are you still waiting for summer to begin?
In case you haven't yet, be sure to get your copy of my e-book, Teaching Kids to Clean.
If you wrote a blog post, you can link it up below (just be sure to link back here).
But everyone needs to leave a comment . . . because your comment will enter you to win a Summer of Clean Starter Kit from Discount Cleaning Products! I am so excited that they put together a bucket of cleaning supplies according to the supply list I created and recommended in the e-book!  You can purchase the Starter Kit from them, and/or enter to win one here!  Note: this giveaway has ended.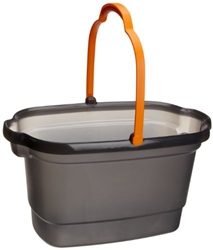 The kit includes:
Mop Bucket

3 Microfiber Cloths (for cleaning and dusting)

2 Scrubby Sponges

Dustpan & Brush Set

Non-Latex Gloves | Box of 100

2 – 32oz. Spray Bottles with Trigger Sprayers
Just leave a comment to be entered.  You don't have to be a mom!  One entry per person, please!
(I hate to have to say this, but the giveaway is only open to residents of the continental U.S.  If you live elsewhere, go ahead and leave a comment about your progress, but please mention in your comment that you're not eligible.)  You can see my giveaway info/guidelines here.