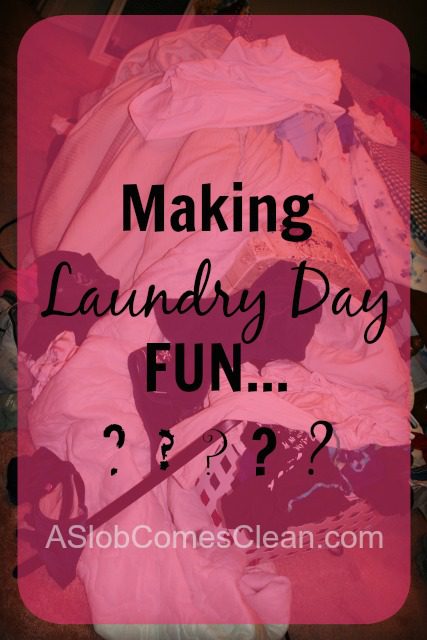 I've been busily returning emails and Facebook messages for my early morning blogging time.  Now the kids are up, and it's time to go be Mama.  I thought I'd share these ideas from my new e-book as today's post.  If you have other ideas for making laundry fun, please tell us about them in the comments!
And don't forget – tomorrow is Weekly Progress Report Day! You can share your stories from this week about teaching your kids to clean in the comments or by linking up a blog post!  (And there will also be a fun giveaway!)
Ideas for Making Laundry Day Fun
Practice sorting colors by creating paper mosaics of the various colors that go together in the laundry.  Use construction paper, craft paper, colored printer paper . . . whatever you have in various colors.  Tear the paper into pieces and sort it like you would sort laundry.  For example, glue all of the blacks, browns, grays, etc onto one paper and label it "Darks".  Put brights together on another sheet, white and off white together, etc.  This can help children begin to visualize what you mean when you ask them to sort colors.  It can be confusing to kids that light blue and yellow would go in the same load, and separating this process from the clothing itself can help them grasp the concept.  These mosaics can be hung on the wall to designate sorting spots for your clothes on Laundry Day.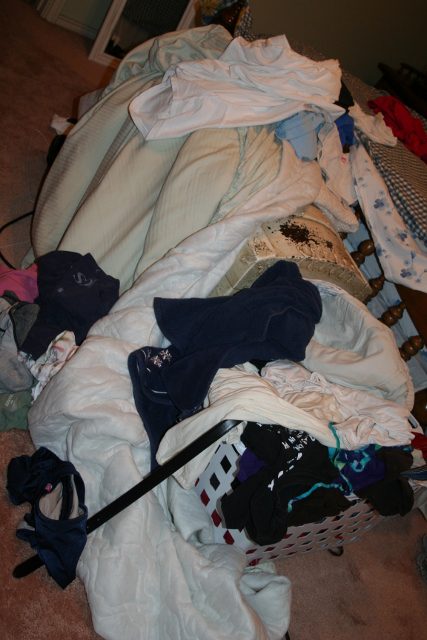 Have sorting races. Give equal piles of dirty clothes to the kids, and let them race to see who can sort their pile into the common Laundry Day piles the fastest.  Mama will need to watch carefully to be sure no more-competitive-than-perfectionist children don't cheat.
Time your folding sessions. You can work together to better your time with each load throughout the day, or divide each load into small piles and have kids race to see who can fold and put away their pile first.  (Obviously, the race is forfeited if all folding is undone when the clothes get shoved into the drawers!)
What are your ideas for making Laundry Day fun?
*FYI, Laundry Day probably won't work for you if you're on a septic system, as it may overload your system. Sorry!