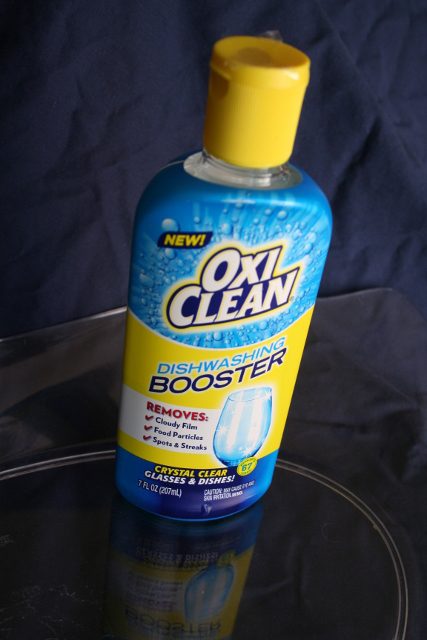 I remember a conversation I had years ago, when I was the mom of two baby boys (both younger than two) and was struggling to keep my head above water.
A conversation with a friend who was in a very different stage of life.
She said something along the lines of, "If I EVER find myself talking about the price of a gallon of milk . . . I'll know that my life is officially over."
I half-smiled, widened my eyes and hoped that she couldn't see inside my brain and know that I'd just had a conversation about the price of milk earlier that very week.
I mean . . . can you believe how much the price of milk has fluctuated over the past ten years?
Anyway, I thought of this about six months ago when I found myself talking to two different people at two different times about how our dishes weren't coming out of the dishwasher very clean.
Yes, stuff like that comes up among moms.  A lot.
And the truth was, both dishwasher-conversations centered around how we were baffled at why suddenly . . . our dishwashing detergent was no longer working as well as it always had.
So . . . when I received an email about OxiClean's new Dishwashing Booster, that actually explained the Great Suddenly-Lame-Dishwasher-Detergent Mystery, I was excited to not only try out the new product, but to share with you the truly fascinating information in that email.  (Besides, I LOVE their laundry products, and wanted to see how their new dishwashing product worked!)
Are you ready? I'm about to share some top-secret (not really) information (provided by OxiClean) that made me say, "Oooohhhh, that's why!"
"In July 2010, a ban on phosphates required the reformulation of dishwasher detergents. Since then,
consumers have noticed that their dishes are just not as clean as they used to be. In fact, many
experience a cloudy film on their glasses and dishes that can build up over time. Some consumers may
have even considered replacing their dishwasher to try and resolve the problem….but it's not the
dishwasher's fault !"
Here are the results of a recent survey done by OxiClean:
69% of respondents either do not know what phosphates are (14%) or that they were banned from dishwashing detergents (55%)
49% feel frustrated because they don't know what's causing the spots on dishes
Top three things that consumers believe cause the spots/cloudy dishes are dishwashing detergent (50%), hard water (34%), dishwasher not working well (30%)
Over half (56%) have switched their detergent 2-5 times
88% agree or strongly agree that it is embarrassing to serve on dishes that have spots or are cloudy
Almost 1 in 3 (32%) say their biggest kitchen challenge is achieving sparkly dishes; 30% say spots on dishes are their biggest kitchen complaint
I cannot express how relieved I felt for this mystery to be solved.
So, did the OxiClean Dishwashing Booster solve all of my spotty-dish problems?  Honestly, I didn't see a drastic improvement.  My glass and ceramic dishes looked nice, but the clear plastic serving tray that they sent me to test . . . got spotty.  Now, in my experience, plastic dishes tend to get the spottiest, so it was a pretty tough thing to use for the test.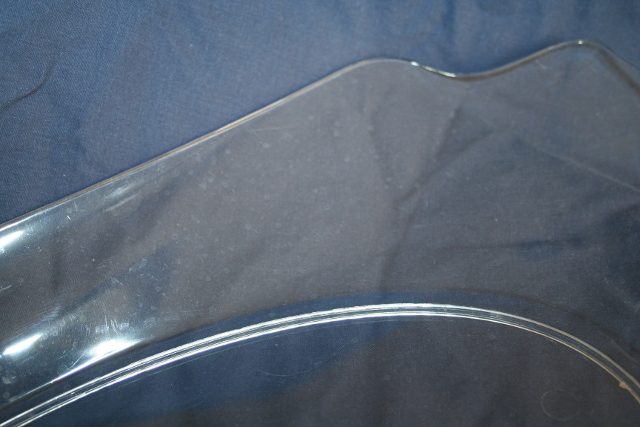 I washed the clear plastic tray once after adding the OxiClean Dishwashing Booster to my dishwasher, and there were minor spots left on it.  Not enough to drive me batty, but they were there.  I then squirted two squirts into the bottom of the dishwasher in addition to what was in the Rinse-Agent spot.  (This was suggested on the bottle's instructions.)  There really wasn't any noticable difference after that on the tray, but the inside of my dishwasher looks cleaner and fresher than it has in a long time!
I wrote this review while participating in a blog tour by Mom Central Consulting on behalf of OxiClean and received a product sample and serving tray to facilitate my review, and a promotional item to thank me for taking the time to participate.