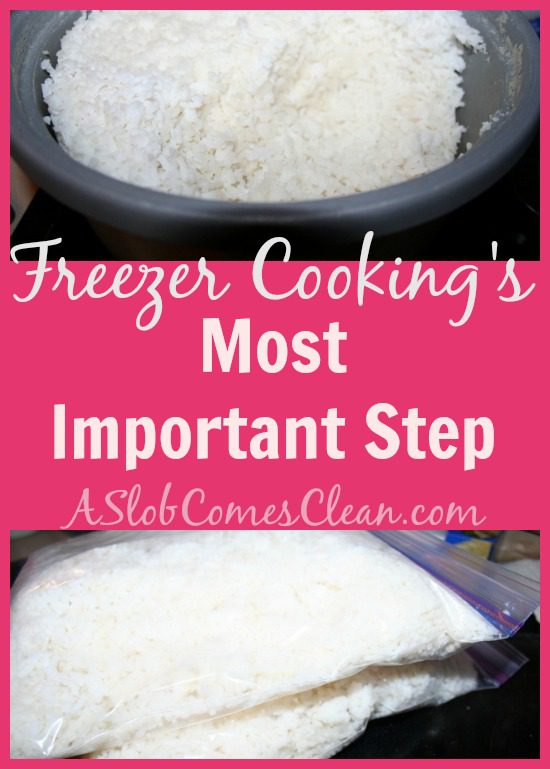 Wow.  This has been one busy month/three-day-weekend.
Money Saving Mom has been hosting a freezer cooking link-up every night this month, and I haven't once been able to participate.  There's just so . . . much . . . going . . . on.
But last week, as I once again realized that while I had menu planned, I hadn't grocery planned (and was lacking an essential ingredient for whatever was supposed to be on the menu that night), I grabbed something out of the freezer which I had purchased at Costco several months ago.
This something needed to be served over rice.  So I did what I usually do when I cook rice, and doubled/tripled/quadrupled the amount that I needed.
I love to pre-cook and freeze rice to use in our family's favorite Chicken Fried Rice recipe or in my Mexican Casserole recipe.
But there's one small step which I tend to forget when I do this.  It's kind of an important one.
It's called freezing.
Yes, I love to cook extra.  LOTS of extra.  But I have been known . . . to leave that lots of extra in the fridge and forget to freeze it.  Because of my totally-made-up-and-self-diagnosed Time Passage Awareness Disorder, I generally realize what I've done (or haven't done) when I go looking for my rice-cooker and see that it is full of pink-polka-dotted rice.
Did you know that rice-mold can be pink?  It can.
So, I'm proud that not only did I do a little freezer cooking last week, I also did a little freezing.
And here's my bonus tip for freezing cooked rice: The best way I've found to freeze rice is to first let it get very cold in the fridge so it becomes hard and solid.  Then, I divide the rice chunks into freezer bags, seal the bags, and smush down the rice chunks.  The large chunks break apart easily when the cooked rice is cold and dry.
After they're as broken up as possible, I freeze the bags flat.
This allows me to easily break off as much rice as I need for a recipe, and also greatly decreases thawing time compared to large chunks of frozen rice.
Be sure to check out all of my freezer-cooking tips and recipes here.