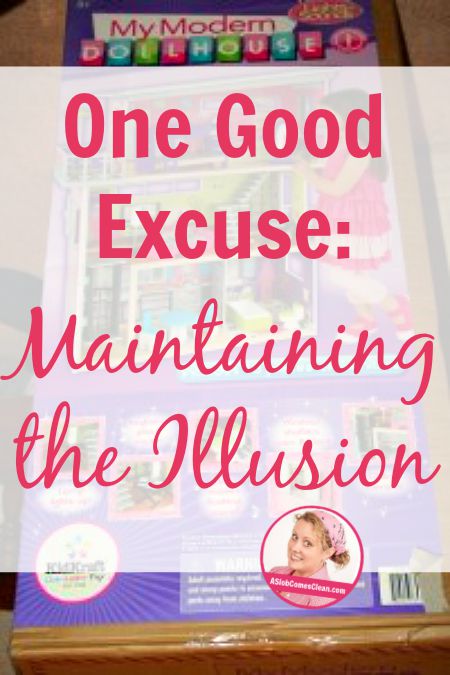 We do Santa.
We're not die-hard put-footprints-on-the-roof types, but we love the excitement of going to bed on Christmas Eve wondering what  we'll find when we get up in the morning.
My 8yo straight-out asked me last Christmas Eve if Santa was real (he'd lived in denial for several years), and so now my five-year-old is the only one who doesn't know the big grown-up secret.  (Though I'm pretty sure she's purposely living in denial as well.)
Anyway, her big gift this year was a Barbie House.  A Barbie house that required some assembly.
Once it was assembled, we were left with a box.  A big one with a picture on the front.
Since it was Christmas morning and all, I just shoved the box back into my closet and hid it with the sheet that had been covering it since Santa went shopping at Costco in November.
An okay solution . . . except that the box had displaced the humongous suitcase I use to store out-of-season clothes.
Displaced it to the middle of the master bedroom floor.
When the box contained a wonderful Christmas surprise, I could justify the TEMPORARY displacement.  When the box was empty . . . it was much more difficult to justify.
My (totally lame) excuse:
I would have had to take the box out to the curb at just the right time (after my daughter left for school and before the trash truck arrived), but had never (in the three months since Christmas) thought to do that.
During my 90 minute master bedroom transformation last week, I arrived at a point where I had to tackle this problem in order to move forward with the rest of the room.  I could no longer wait for those elusive 20 minute windows that come twice a week.
At first, I tried peeling away the picture.  When that process started getting on my nerves, I just stomped the box down and shoved it into its very own black trash bag.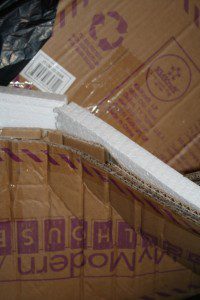 I also stomped down my inner-turmoil over "wasting" a black trash bag on one single item that could technically be put out for trash without even being placed in a trash bag.
That kind of inner turmoil turns into outer turmoil when I let it paralyze me and keep me from doing what needs to be done.
Is peace in my master bedroom worth the cost of a single black trash bag?
Yes.