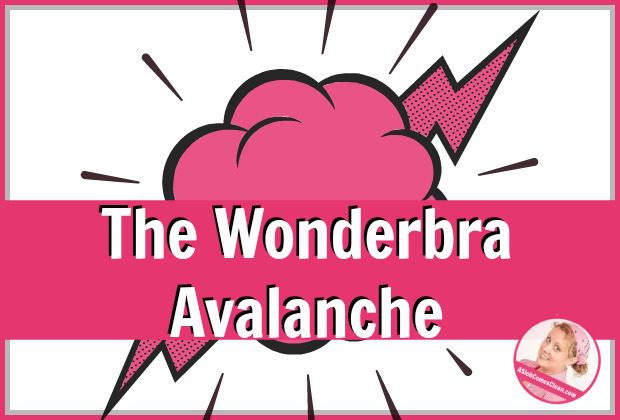 No, not an avalanche of Wonderbras.
In this metaphor, the Wonderbra is not the snow, it is the idiot who whistles or claps or whatever and causes the avalanche.
Actually, it is probably the whistle itself . . . and I am the idiot.
Last week was a bit crazy, but I was holding on. I did enough of my daily tasks to keep things sane, and did each day's major cleaning task. I was pretty proud of myself. I even made a small amount of progress in the master bedroom.
But as a slob, I have always known that crazy weeks, days, or whatever can throw the entire house down the slippery slope of chaos, or cause an avalanche, or whatever visual picture helps you understand how out-of-my-control it feels.
I was proud of myself for clearing off the rug in the master. And I legitimately cleared it. I found a place (mostly the trashcan) for each item on it, and didn't move anything to a "later" pile.
But the parts of the room not pictured in recent posts contain many "later" piles. And one of those "later" piles was on top of the trunk at the end of our bed. It's a pile of all the clothes to be put up "later." And the pile was getting huge. I did make it a non-negotiable a while back, but had been negotiating it away for months.
Somewhere in that pile was buried the dress and necessary accompanying Wonderbra for the show I was in Saturday night. I found the dress easily, but couldn't find the Wonderbra. And being in a hurry, I deemed the finding more important than order and started throwing the piled clothes everywhere as I searched.
If things had been put away properly, I would have gone right to the item I needed, and being in a hurry wouldn't have caused my room to go from "much better" to "total disaster" in 30 seconds flat. And of course in the name of my frantic schedule, I still haven't moved the now-spread-out-all-over-the-floor pile back onto the trunk.
We are almost to April, and my goal is to have the Master Bedroom fully decluttered, little bit by little bit, by the end of the month of April.
This has been an excellent reminder that as long as I leave pockets of chaos, the slightest thing can cause an avalanche, and the chaos will spread.