Here's where I feel inferior participating in something hosted by The Nester.  I mean, her recent posts about using drawer-less chests and chest-less drawers made my junk-loving crafty-delusional juices flow.
Today, I sat at my computer, knowing I needed to get up and find a detail.  Or just look around and find one.
My eyes landed on the bookshelf in the corner of the living room.  On the CD player that I'm pretty sure doesn't work, and the strewn-around CDs and movies.
I went to take a picture, and then noticed the sticks in the corner.  Leaning up against the wall.  Trying to be inconspicuous.
These are artsy sticks that my mother gave me.  I've had them . . . for a while.  They still had the price tag on, and were bound together by twine.
In a moment of which-will-require-less-effort-the-CDs-or-the-sticks motivation, I chose to do something with the sticks.
In my defense, I attended a blogger event this morning, and needed to write a quick post before I have to pick up my kids from school.  (Sounds totally legit, right?)
I searched for scissors (and ended up with a butcher knife) and cut off the tag and twine.  Then I removed the other (less artsy) red sticks I had in a big glass . . . thing in my entryway, and put them in the trash.
Unfortunately, as I always fear when tackling a "quick and easy" project, I saw what was in the bottom of the big glass . . . thing.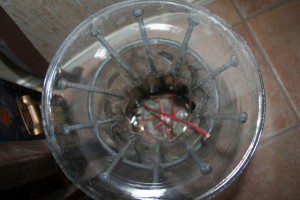 Which required bending over and reaching in and holding my breath to keep from sucking in huge gobs of dust.
Because there were plenty of those.  Dust Gobs.
My irritation grew as I realized the entire world was waiting to read the details of my detail of the day, and that I couldn't, in good conscience, NOT get those dust gobs out of there.
I trudged to the closet and grabbed my handheld vac, which seems to be a key ingredient in my details of late.  I sucked out the dust, and then found something to clean the outside.  I may have given it a few whacks on some Dusting Days here and there, but I've obviously not thoroughly dusted it in a very long time.
Now, it looks like this.
Which I don't really love.
But it's better than the tagged and twined sticks sitting in a corner, while the broken-off-by-kids-who-see-swords-in-every-random-household-object other red ones sit here.
Here's the thing.  I have big ideas for my entry-way. I know paint color and decor and all of that . . . in my head.  And believe me, the in-my-head-version looks nothing like it does right now. It doesn't include a single stick of any color.
Somehow, knowing what it's going to look like, even though it won't look that way for quite a while, makes me not want to expend the energy to make a teeny improvement now.
To pay attention to a detail.
To move red sticks from a ridiculous place to a logical place.
But when I get over myself and realize that it's a detail . . . not a decor statement by which the world will judge me, it's okay.
Confusing enough?
This post is part of my 31 Days of Details.
Oh, and the toppling books and piled-high movies on the other shelves (that I didn't notice until I saw that picture) . . . will have to be another day's detail.
___________________________________________________________
Have you voted for A Slob Comes Clean today?  There's just a week left of voting, and you can vote every day!