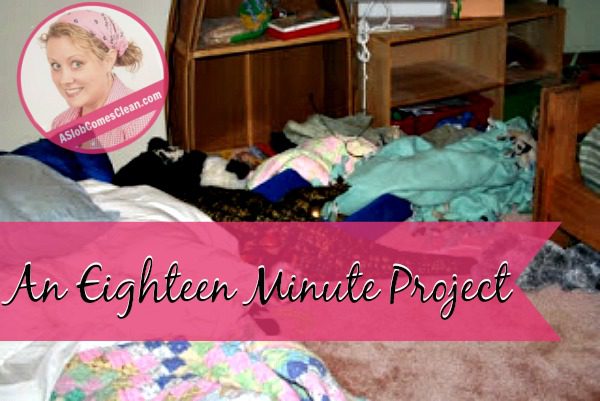 It was supposed to be an all-morning-long project.
But then shopping took two-and-a-half hours and bathrooms needed scrubbing.
I set the timer for an hour.
But then something-or-other distracted me, and suddenly the timer only had thirty minutes left.
I walked into the boys' room, determined to make however small-or-large a dent I could in those thirty minutes.
But then I realized that I had to (because I'm a slob-blogger and all) take a before picture.
I spent twelve minutes looking for my camera.
And then there were eighteen minutes left before I had to start supper.
I decided to just clear that corner.  Most of the pile was bedding.  My daughter slept on the floor in there while she was between beds last week, and then snuck back in a few times when we had night-time storms.  (This is allowed.  If she's satisfied sleeping on her brothers' floor instead of waking me up . . . I'm fine with that.)
A little folding and linen-closet-shoving later, and the corner looked much better.  Once the majority of the pile was gone, it was easier to identify things that could go in the trash and things that had a real place somewhere in the room.
When the timer went off, I happily quit and took an after picture.
And realized that I hadn't even seen the hangers, etc. on the left until I saw it in the picture.
Yes, I see the something else that's still there.
Oh well.
I wonder what I could have accomplished in an hour?  
I'll be linking this up to Orgjunkie.com
.