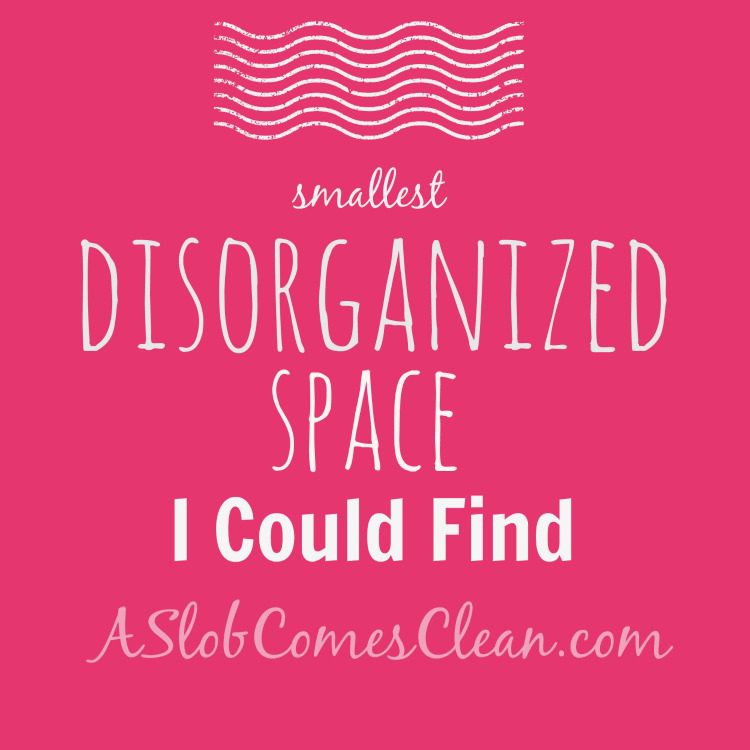 If you've hopped over from Org Junkie, welcome!  You can read about my two decluttering questions here, where I explain why they work so well for my slob-brain!  Also check out the other methods that I use in my deslobification process.
It's drizzly today.
And a half-day of school for the boys.
Combine those two things and you have . . . the perfect day for a nap.
Buuuutttt, I felt like I should organize something.  Partly because I have this keep-myself-accountable-by-blogging-thing going, and partly because I've been doing well at organizing SOMETHING each week for a while now.
Mostly, though, it's because I like to participate in Orgjunkie.com's 52 Weeks of Organizing.
And if a noble desire to provide a wonderful home for my family doesn't motivate me on a particular day, I'm fine with ruthless ambition taking over the job.
In an effort to get myself in that darkened room as soon as possible, I searched the house for the very smallest disorganized space I could find.  There are plenty, but I was going for speed here.
I thought about the silverware drawer, since it has been getting on my nerves lately.
I was afraid it would require too much energy.
I thought about the drawer in my china cabinet where I keep my table-cloths.
Pretty sure I haven't opened it since the last time I purged in there.  No, things are not folded to Mama Laundry's standards, but I'm fine with it.
A random cabinet in the kitchen?
Yes, it obviously needs work, but would require floor-sitting and/or knee bending.   I'm not in that zone today.
I slammed the door pretty quickly.
I finally chose this random drawer that is part of the built in hutch/cabinet/whatever in our breakfast nook.  It's not in an easily accessible place, so it naturally attracts rarely-used-random-items.
Honestly, I immediately removed the stickers and shoved placed them two drawers down, where there were more stickers.  Wherever I would look first . . . that's my rule.
This drawer didn't take long at all.  I pitched the vast majority of stuff I found.  And the other things, like markers and a single cloth napkin, were easy to re-locate to their proper homes.
A few things I found:
Lots of flower doo-dads . . .  bought with the intention of making hair bows for my daughter.  I suffer from Delusions of Craftiness at times.  
I found the instruction book for our video camera.  I can GUARANTEE you that if I had needed this, I would never have looked in this drawer.
And lots of napkin rings.  It became clear that this was my Napkin Ring Drawer.  Not that I have enough of any one set of napkin rings (or even of cloth napkins) to create a formal table.  I also suffer from Delusions of Fanciness.  
I did choose to get rid of the badly tarnished set.  I think that's a good sign.  At least I'm not delusional enough to think I would polish them.
I found two blue marble eggs . . . just in time to put out for Easter.
Delusions of The Ability to Handle Seasonal Decor.
And here's my after:
Almost everything that was in this drawer went to the trash or its real home.   I'm happy to have an almost-empty-very-small drawer.
Go check out more projects at Orgjunkie.com.