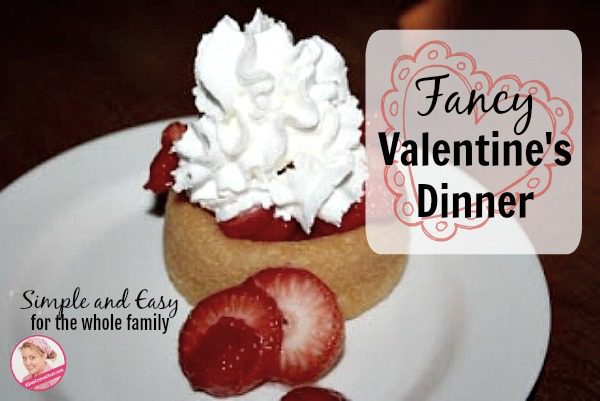 Before I share my menu plan for the week, I thought I'd share what has become our traditional family Valentine's Dinner.
Maybe it's just me . . . . but I have big dreams about creating special family times and lifelong memories for my children.
Dreams . . . but sometimes not plans.
Valentine's Day generally sneaks up on us.  It seems to always fall on the night of a basketball practice or church or some other obligation.  But it's important to me to use it as a time to make my family feel special.  If I don't take advantage of these kinds of days, we can go way too long without any reason to set a pretty table or have a meal that stands out from the ordinary.
A few years ago, I decided to make French Dip Sandwiches for Valentine's Day.  Now, it's tradition . . . as my 7 & 9 year olds passionately pointed out this year.  (It totally warms my mommy-heart to hear my kids reminisce about special dinners from  years past.)
French Dip Sandwiches, the way I make them, are about as easy a supper as you can possibly make.  But they're special, they're delicious to kids and parents, and their quick, assembly-only prep means that you can take a little time to make the table look special.
And that, for kids, is enough.
This is one of those "recipes" that isn't really a recipe, but because we love them so much, I thought I'd share.  If you don't have any ideas for a special dinner tonight, you could stop by the store on the way home from work and be able to do this.
Ingredients:
Shaved Roast Beef from the deli.  (We use one pound for six decent-sized sandwiches.)
Sliced provolone cheese.
Sub rolls.
Two cans of beef broth.
We serve with tator tots and salad.
Put your tator tots in the oven.  Then, if you're me, clear the Dining Room table.
Separate the tops and bottoms of buns and divide the meat over the buns.  Cover the meat with slices of provolone.  I used two slices, overlapping, for these.  (Somehow I didn't think to take a picture with the cheese on there.)  If your beef is shaved, the cheese slices will help it to not fall out of the sandwiches as easily.
Put the half sandwiches into the oven with the tator tots until the cheese melts.
While the sandwiches are in the oven, light some candles on the table.
Don't take a picture.  Pictures make candles look terribly crooked, even though in reality they don't seem all that crooked.
Dining by candlelight is automatically fancy, no matter what's being served.  The dim lighting also means that clutter on the edges of the room isn't as noticeable.  Not a valid plan when hosting your mother-in-law, but for your family who lives there and knows the truth, it's great.
Pour the cans of beef broth into a microwave safe bowl.  
Once the sandwiches are warmed through, the cheese is melted, and the tator tots are done, put the top halves of the bread under the broiler.  Don't try to do anything else at this point.
Trust me.
For our "traditional Valentine's dessert" we have strawberry shortcake.  At some point, but not while the bread is under the broiler, slice strawberries and sprinkle them with sugar.
While you're eating your dinner, they'll get all juicy and yummy.
Serve the sandwiches with a ramekin of warmed-in-the-microwave beef broth ultra fancy au-jus for dipping.  Kids love this.
Dessert is equally fun, while equally simple.  Top store-bought shortcakes with the sugared strawberries and whipped cream.
Yes, I do still dream of making a truly elegant and labor-intensive meal, but for this time in my life . . . our simple and easy tradition works.  And I can say with confidence that it produces the same wow-our-mommy/wife-loves-us-so-much-she-made-this-fancy-dinner results.
And now for the rest of the week's menu:
(We had our Valentine's dinner last night.)
Monday – Homemade pizza
Tuesday – Beef Stew
Wednesday – Tator Tot Casserole
Thursday – Chicken Breasts and Baked Potatoes
Friday – Out to Eat
Saturday – Potato Soup (Didn't have that this week, since it became our V-Day dinner night.)
Check out more menu plans over at Orgjunkie.com.
_________________