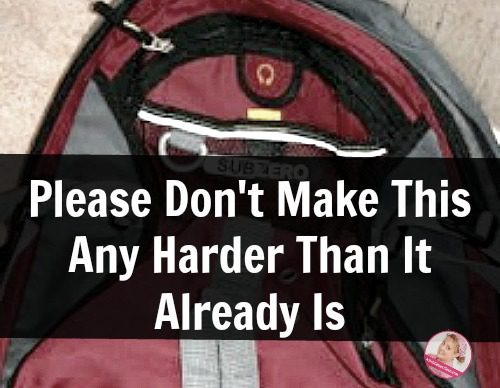 It's difficult enough for me to throw things away.
And because of my tendency to have three of every one thing I need, I often have to get rid of perfectly good stuff.  I donate that stuff.
Sometimes I need to get rid of not-perfectly-good-anymore stuff that's been hanging around much longer than it should.  That's the stuff I have to talk myself into trashing.
I've admitted that I'm scatter-brained.
This is why my husband sometimes errs on the side of caution and doesn't put out for garbage everything I've put in the trashcan.
Which drives me bananas.
Maybe it is true that I tend to put the milk in the laundry room, or the dish soap in the fridge, and I can't remember to close a drawer to save my life . . . .but really . . . . if a slob is trying desperately to change, and finally gets the guts to throw something away that she's finally accepted is worthless, please don't make it any harder than it is.
Over the past year or so of this deslobification process, hubby has learned to ask if I meant to throw something away.  He's gotten used to finding clothes in the trash can, as I've gotten used to the reality that there comes a time in a shirt's life when it is no longer fit to even be donated.
He knows me and he knows how hard I'm trying to change.
But evidently the garbage man does not.  
See that perfectly nice-looking backpack above?  Well, in reality, it's perfectly awful.  It's been shedding gray flakes of who-knows-what all over everything in it, and all over the bed, or floor, or sofa where it gets unpacked . . . for weeks.
So finally (rather than immediately after noticing this problem), I said, "Enough!" and trashed it.
Hubby asked for confirmation, and put it out for trash pick-up.  I went out to get the mail the next day, and guess what?
The trash collectors had left it. 
Really?  Can you please not make it any harder on this reforming slob to get rid of stuff????
___________________________