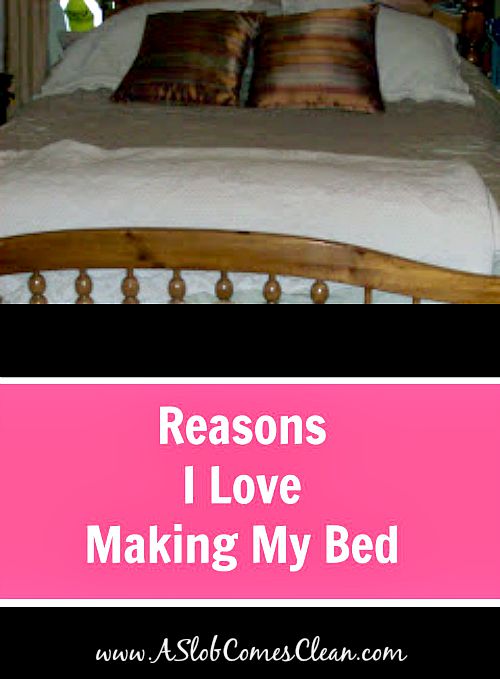 I used to be a die-hard what's-the-point-of-making-a-bed-when-you're-going-to-get-back-in-it-that-night advocate. I could argue my point, and feel completely justified.
But when I started this deslobification process over a year ago, I began by making my bed. (Almost) every morning. I didn't know why, other than . . . that was what normal people did.
With the state my home was in, I needed to accept that I had no room to argue about anything housekeeping-related.
And now that I've been sleeping in a made bed almost every night for more than a year?
I love it. And there are quite a few reasons.
First, it makes the room look better. Even when you have to bring your knees up to your chin just to walk through clutter to get to the bed, somehow the sight of a made bed with pretty pillows on it soothes the soul.
Second, it feels good. You know that feeling when you sleep at someone else's house, or in a hotel, and the bed has been made up beautifully? It looks inviting, and then you crawl in and the sheets feel soooo good?
The sheets.
Not the scratchy underside of the bedspread because the top sheet disappeared long ago between the foot board and the end of the mattress.
Third, it helps your marriage. Seriously. And I'm not talking about your husband being glad that his wife has finally started making the bed (though that's a good thing too). And I'm not talking about you making the bed look more inviting for, well . . . you know (though that's a good thing, too).
I'm talking about cover-stealing. Yep. No more claims that "I don't have any over here either!" You start out the night even-steven, so it's crystal clear who the culprit is.
Fourth, it's a really easy task that makes you feel like you've accomplished something in your home in the first 2 minutes after you wake up. Now, if you're like I used to be, you're probably thinking, "It's not easy! It takes me forever to make my bed!" I used to have to search for, and then yank and pull that top sheet out of its hiding spot. Then I had to pull all blankets off of the bed, shake them out, and put them on one by one.
Guess what? Sheets and blankets don't get THAT messed up in one night. Slight tugging to straighten things up, a little smoothing, throwing on the pretty pillows (which are on top of the clutter, not buried underneath), and you have a made bed.
And if you've already made your bed before you head to the kitchen for your coffee, you are well on your way to getting into your Homemaker Character for the day. Preparation, people!!!
And last, but definitely not least . . . the thing I love most about a made bed . . . homework time.
What?
Homework time.
My middle child, who is in first grade, has mostly reading homework. Reading aloud. Not really conducive to a homework table with his brother. He also resists homework more than my oldest ever did. So, early on in the school year, we developed the habit of doing his reading on my bed.
My made bed.
My comfy made bed.
For this mama, it's glorious. Being off in a different room gives us some special one-on-one time together. He's more relaxed and reads better. Lying there reading together lends itself well to snuggling (an increasingly rare treat with my boys). And I am not going to complain about being forced to stop and rest for a while in the middle of the afternoon.
Love it.
I'm also linking up to Finer Things Friday over at The Finer Things in Life, because that last reason is most definitely a finer thing.
—————————