At the end of 2020, I told you all about Take Your House Back, the course I created with Dawn from The Minimal Mom, and Cas from Clutterbug. (Cas is the star of Hot Mess House on HGTV!)
Registration is open again!
I knew we had something special, and I was excited to share it last year. I'm even MORE excited now! I knew people were making huge progress in their homes as they worked through the course, but when they responded to our call for testimonials with their before and after photos, I was full on giddy.
People are quite literally taking their houses back! I absolutely love seeing people's amazing progress and the results of their hard work. I'll be sharing lots of before and after photos and stories over the next week or so to inspire you and to help you decide if now might be a good time to jump in on the course if you missed it last time.
You have access for a year (and then can renew after that year for a small fee), and you can do it all at your own pace. If summer left you out of the routine, this might be the perfect time for you to jump in. I truly believe it's worth every penny.
Go check out Take Your House Back. 
Here's a story (with before and after photos) from one of the course members:
Hi Dana,
I would just like to thank you, Dawn, and Cas for taking the time to make this course! The concepts I've learned in this course have helped me make a huge wonderful difference in my home!
It's hard to believe what a difference a mindshift can make in your life…but then you see proof!! Less and Better!!
It's great to be a part of a group that understands, and supports everyone when they are struggling! I'm making slower progress than some others in the group and that's ok because I'm learning the tools to enable me to go through my house and get it under control.
Dana's help with Clutter Threshold, Container Concept, Visible Spaces, and Look for Trash have all helped me think differently about our stuff and to make progress I never thought was possible!!!
Like I said, I still have a ways to go, but feel completely capable of doing it, whereas before I had no idea what was wrong with me and why nothing had worked for me before.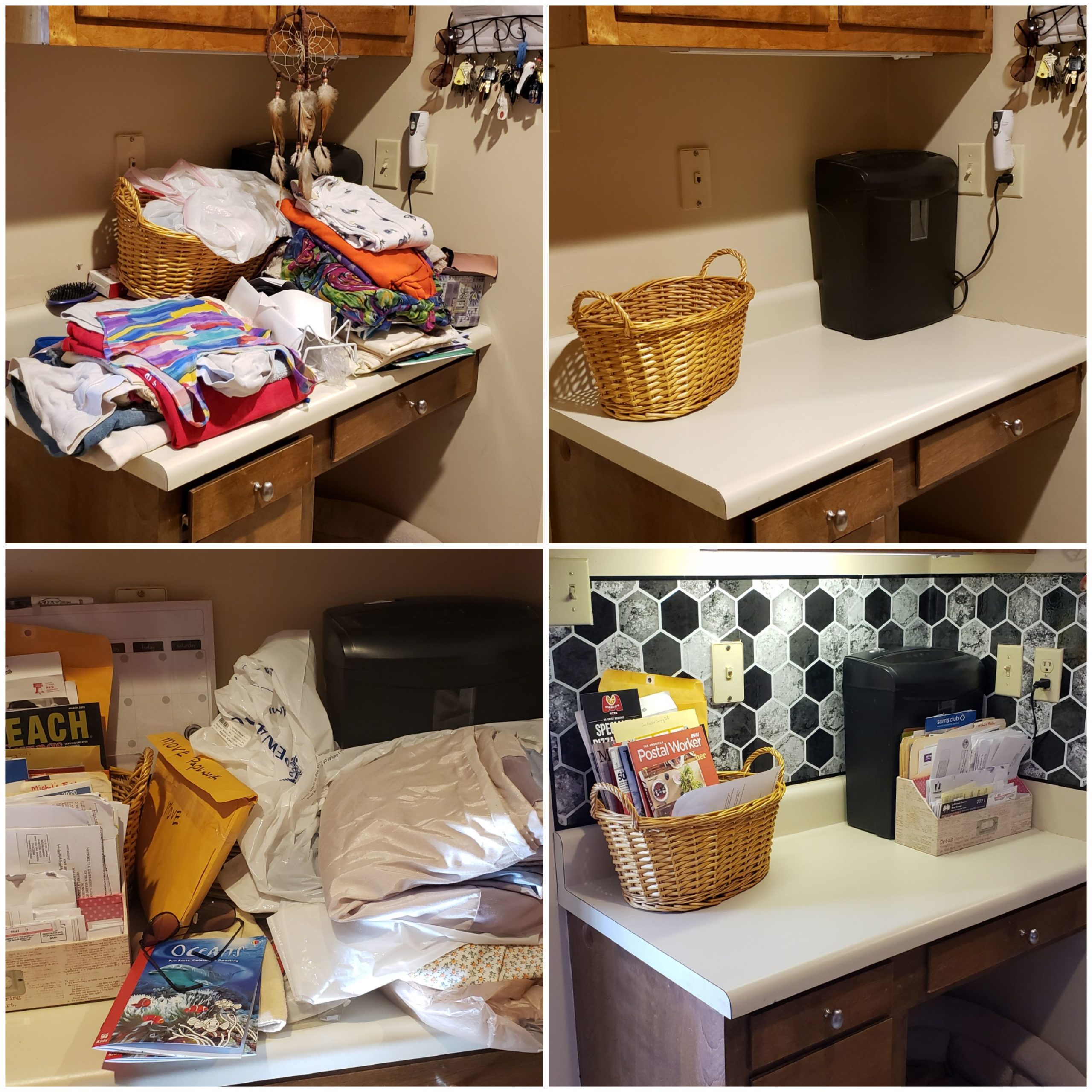 I'm also taking some time to put some of Cas's Clutterbug organization tips for Bees into action at my house as I get areas under control. So far I'm just using things that I have around my house to give it a try as they suggest (so I don't go out and get more stuff that might not work for me.) Once I figure out the things I need to help me maintain the area, then I'll get whatever I need!
Dawn inspires me to have less stuff! She really does feel like an encouraging friend through all of this. Keeping stuff "just in case" I might need it has caused me to have rooms in my house that I never used in the 4 years we lived there, and I don't want to live like that anymore!
Thank you again to all 3 ladies for taking the time to make this course, answering questions we have and for all the kindness and support you give to us all through videos and the Facebook group!! Here are a few pictures just to show the improvements! Hard to believe I've finally found help!!
Go here to learn more about Take Your House Back!