I accidentally wrote a blog post, even though I'm on my summer break. (This year is weird.) I was sharing on Instagram about some amazing and unexpected help we received decluttering our front yard, and ended up writing a whole big thing.
I have big thoughts on this subject: help. I shared the first two "before" and "better" photos
in a recent post.
I wouldn't call the third pic a Totally Done pic but it's definitely an Oh My Word I'm So Excited All that Junk is Gone  pic.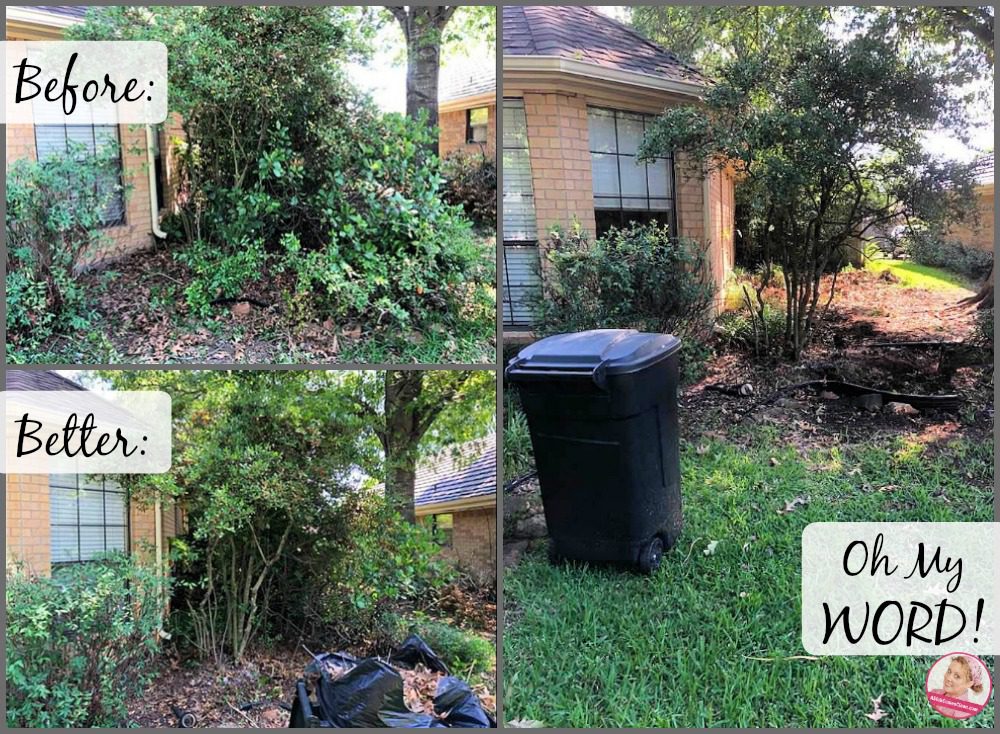 I'm giddy.
But I also have thoughts I need to share.
We had help. There are real machines to dig up rogue trees that grow up without permission and won't even budge when you pull or dig or cry. (So rude.) There are also people who know how to use these (scary but awesome) machines.
We didn't even know enough to be able to picture Tree Yanking Tractors. Because we didn't know, we imagined the worst. The thought of ever getting that part of the yard under control felt impossible and made our stomachs hurt.
Then last night, a friend down the street who used to operate Tree Remover Thingies for a living borrowed the scary machine to dig up a few things in his own yard. Then he sent a text asking if we wanted him to come over to our yard and dig up some things.
I hesitate to mention this huge blessing because I know (because I've been there) that some of you are thinking "That must be nice . . . " and "I wish someone would text me and offer to come solve my overwhelming problems."
So I think it's important to say a little more:
If I hadn't been already working on my yard for the last two months, pulling and cutting and chopping and sweating day after day even though I had no idea what I was doing and was worried I could never make an actual difference, the magic of last night would never have happened.
I was making progress. Our friends saw us out there working. And they saw the difference.
This means they saw that we care. 
I know it sounds harsh, but I've had to accept that it's really hard to convince someone I care when they don't see me work on changing the thing I say I care about.
I'm not saying they were withholding help until they saw we cared. I'm saying the visible difference we'd made caused them to notice we needed help.
Also, these are real friends. Some of our "do life together" people. So they know our hearts and what our strengths and weaknesses are so they feel free to offer help when they see we need it. Friendships like that take effort and time.
And last but not least, because I had already been working and sweating and digging and pulling for two months, I was ready to accept help.
This project was no longer an ambiguous and overwhelming Someday We're Gonna Have To project  I'd  been actively ignoring. I knew exactly which things I wanted gone. I knew exactly where to focus this gift.
I hate to even admit this, but knowing myself, I'm afraid I would have said "No, that's OK," to the offer three months ago. I would have felt dumb about my own needs. I would have had no idea what needed to go and would have felt too intimidated at the thought of running outside and making quick decisions.
I would have been embarrassed and pretended I didn't care about my yard even though I totally did.
So the moral of the story is to go ahead. Go ahead and do what you can even if you don't know exactly what you should be doing. That will make you ready.
You'll learn what it is you could hire someone to do or you'll be ready if you get a miracle text like we did last night.
Go ahead and do something. Even if that something is the only something that happens, you'll be better off than you were before. And better is good.
--Nony