When you're decluttering, taking a "before picture" is so helpful.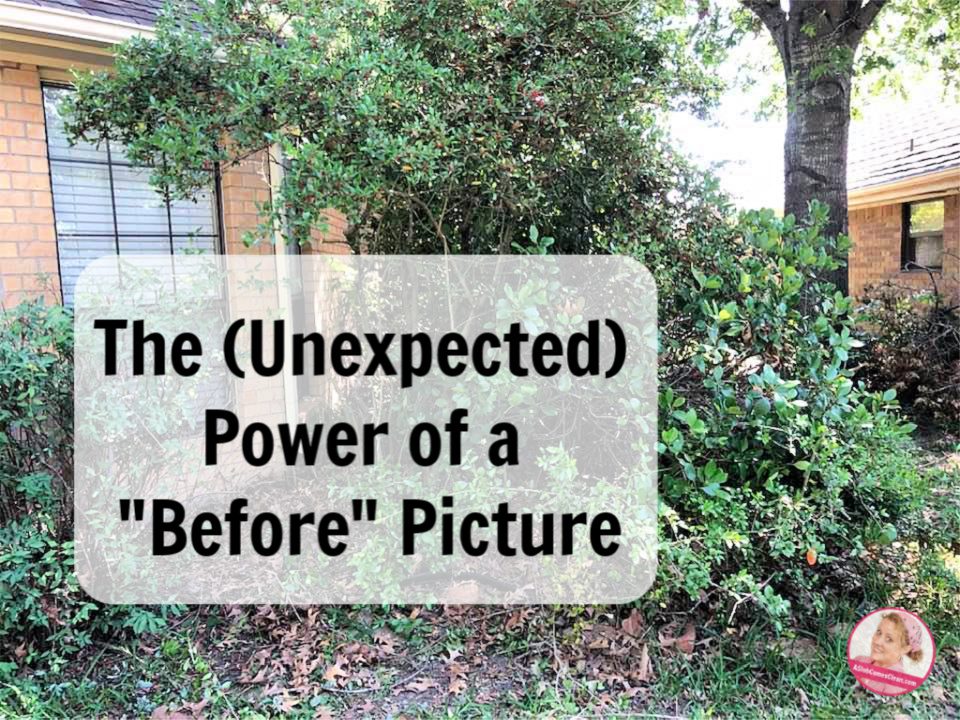 "I've been working in my yard a lot lately."
That's a phrase that sounds normal coming out of someone else's mouth, but it doesn't feel normal coming from me.
Working in the yard is helping me stay sane.
My yard had been on my "we really need to" list for years. I've never been a yard person. And lately, I'd noticed how bad it was and would grimace every time my brain registered how it looked.
But, not being a "yard person" I didn't even know where to start. All the leaves and wonky bushes and baby/teenager trees growing in random places where they were never planted overwhelmed me.
But in a moment of desperation, I realized:
I needed to get out of the house.
I needed to get some exercise.
The weather was nice.
I grabbed a hoe.
I couldn't find the rake.
I started getting the leaf clutter out of one small section of one flower bed.
(A flower bed created by the lady we bought our house from 14 years ago . . .  that hasn't had flowers in it since the ones she planted died . . . 13.5 years ago.)
I dragged the leaves from a 4'x4′ area into a pile, pulled up the weeds, and bagged them up.
And my yard looked a little bit better.
So the next day, I did another small section. And the next day, another. I never spent long out there, but I was starting to see a real difference.
Eventually, I got out a long choppy thing/tool and a shorter choppy thing/tool and started trimming. When he was home, Hubby joined me with some bigger choppy things and we kept on hacking things down.
And now, a few weeks later, working a little bit on a lot of days, our front yard looks significantly better.
It's not perfect, and I'd never call it gardening, but it's better. Decluttered.
My biggest regret, though, is that I didn't take a before photo. 
It's not even that I forgot. I just didn't want to.
I didn't want to take a picture because I was embarrassed about how bad it was.
I also didn't want to take a before picture because I didn't believe it was possible for me to truly make a difference. I had no faith in my ability to make it better.
I just couldn't believe that the results would be anything to be proud of.
I was wrong.
I knew I was wrong even while I wasn't taking the pictures.
I have experienced the power of a before picture so many times.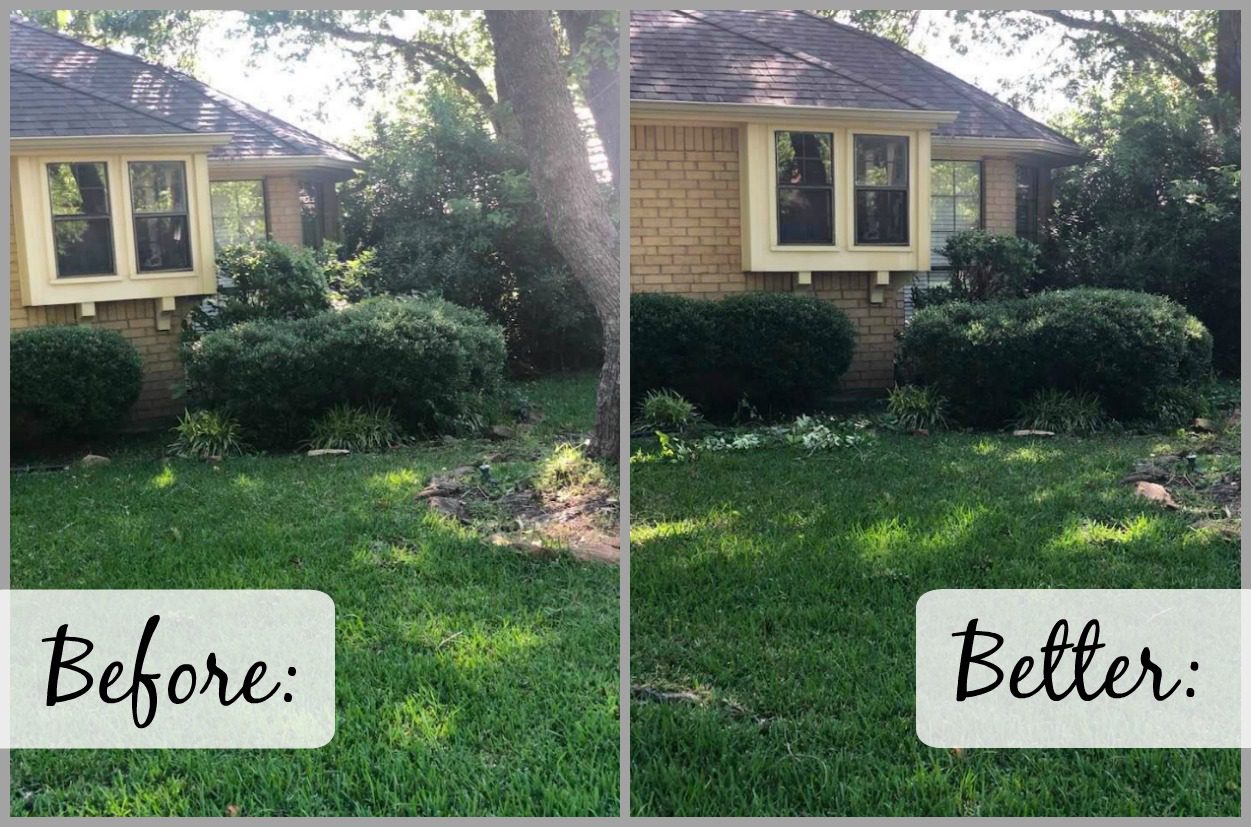 Here on the blog, where I've documented my deslobification process over the last decade, before pictures were a requirement. Even in the beginning when I was anonymous and lived in fear of someone I knew recognizing my house, I was committed to total honesty. (About my house. Not about my identity.)
Because I "had to" take before pictures, I learned their power.
"Before" pictures provide affirmation I want so badly.
The most frustrating thing about housework is that no one very few applaud. Especially when the result is just better, and not a Grand Finale of Perfection.
When I don't take a before picture, I'm pretty sure it looks better when I've worked for a while.
When I do take a before picture, and then I take a "better" picture, I can swipe back and forth and know for sure I made a difference.
Seeing the difference produces a version of the same lovely feeling I get from applause. I see proof that I made an impact. The effort was worth my time.
Before photos inspire me to keep decluttering.
Taking the before picture is always worth it. Visual proof of progress is a powerful thing.
This space is better than it was before. The effort was worth my time.
And the beauty of taking the photos on my phone is that I can see exactly how much time passed between photos.
Each of the sets of "before and better" photos in this post were taken within an hour. The first set was taken 48 minutes apart. The second set 49 minutes.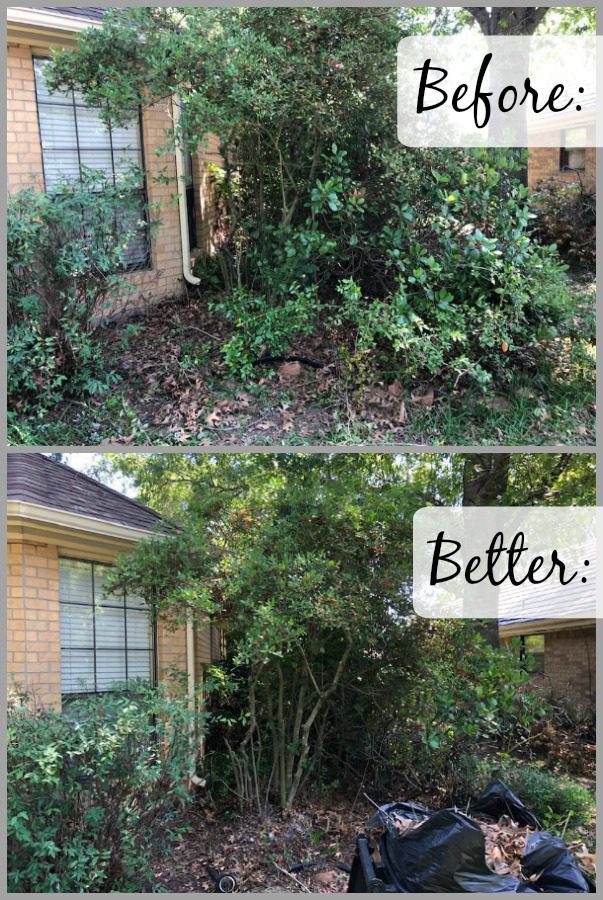 This smashes my delusion that I don't have enough time to make an impact. I know, with timestamped photo proof, that spending less than an hour working in my yard makes an impact.
The same delusion-breaking strategy has worked hundreds of times inside my home.
Even when I'm confident I don't have time to make a real impact, if I take a before picture and start working anyway, I always see an impact.
And every time I swipe back and forth between the before and the better pictures, my brain adjusts a little. I accept that small amounts of time are worth spending on my home. I chip away at the powerful delusion that it makes more sense to wait until I have time to do the job perfectly.
Take the before picture.
Work for whatever amount of time you have. When you stop, take another picture and see the progress. I promise it will be worth your time.*
*Disclaimer: I only guarantee progress if you use my declutter-without-making-a-bigger-mess strategy. You can read the very basic explanation here, but I recommend my book: Decluttering at the Speed of Life. In it, I teach you the mindset changes and the step by step process for working through any level of clutter, in any amount of time you have to spend, and always making progress. And only progress.
Another disclaimer/funny story: In that first better photo, the difference wasn't crazy obvious, and the photo was a little disappointing to me. But I knew what to look for and reminded myself there was a difference. And I had no intention of sharing the photos anyway until this post started burning in my brain. The subtlety of the difference was confirmed when my lovely assistant originally switched the photos and had the "better" as the "before" and vice versa. Oh well! It was still worth it!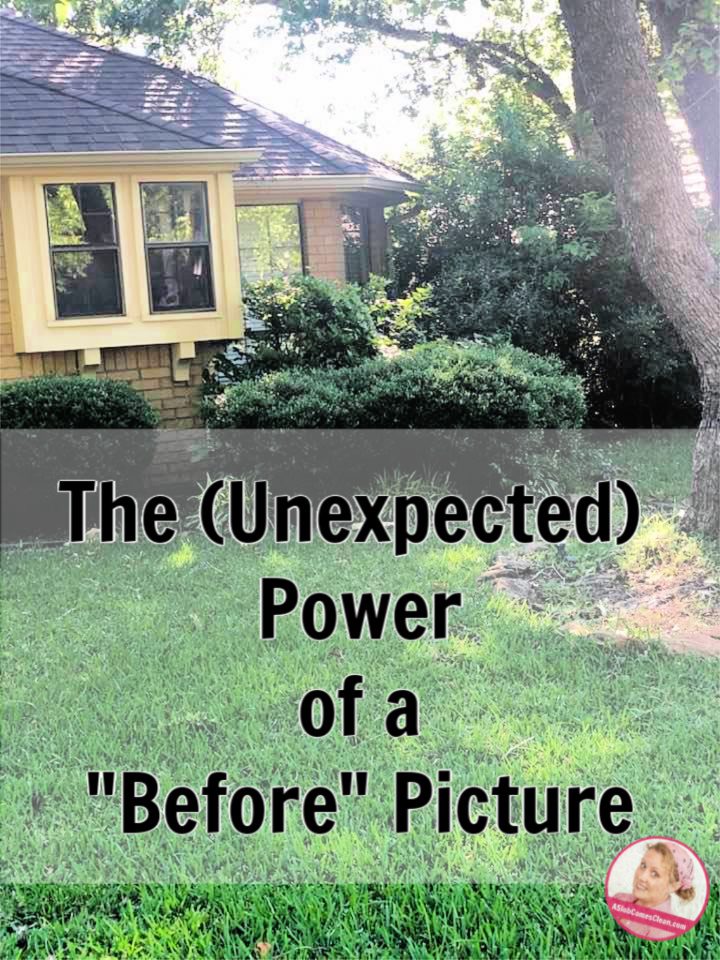 --Nony