I'm so sorry, but this sale is gone forever! It's such a great deal because it's only available for such a limited time. Sign up for my newsletter so you don't miss it when things like this come around!
It's back for a 48 Hour Flash Sale, Oct 1st and 2nd!!!
Here I am, posting on the blog in June!?! 2020 just isn't a normal year, y'all. For so many reasons . . .
But you know that when it's time for the Ultimate Homemaking Bundle, I'm going to be here telling you about it. Complete with affiliate links galore. (To be clear, I'm saying that every link to the bundle is my affiliate link.)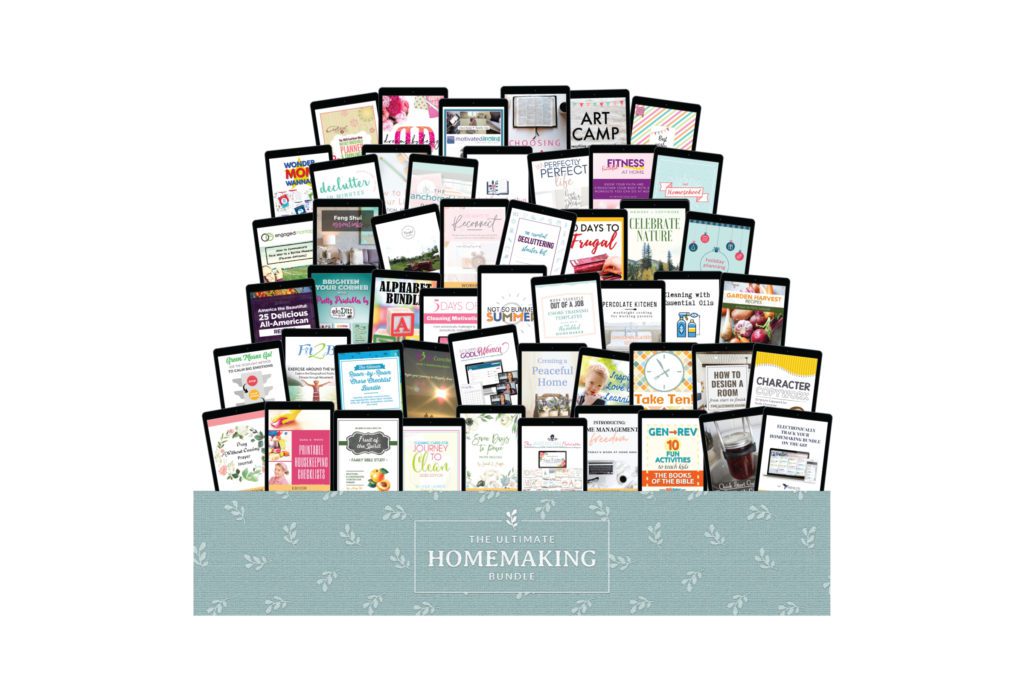 The 2020 bundle is running a few months later than usual this year. I think the reason is fairly obvious. The world has gone bananas.
I know (from personal experience) that money is tighter than usual for most of us these days, so my goal for this week will be to give you ALL the information you need to decide whether this year's bundle is a good deal for you personally.
Obviously, you can live without it. But each year has unique products included (they're different products every year) and if they're products that will help you out, this is a great deal to grab.
What exactly is the Ultimate Homemaking Bundle?
Each year, the team at Ultimate Bundles puts together a huge group of digital resources around the theme of "homemaking" and sells them at a crazy discount.
"Digital Resources" include printables, online courses, and e-books.
The products are sold all together, as a bundle, for a short period of time (Monday, June 22nd through Friday, June 26th) for 97% less than the total cost of the products if they were purchased individually.
Not that you need 51 digital products. You don't. No one does.
But you can take some and leave some and use only what you need for a lot less than you'd pay if you bought a bunch of different things in hopes of finding what worked for you.
The benefit for sellers is that our stuff gets exposure to everyone who grabs the bundle. This year, my fancied-up printable checklists e-book (so much prettier than what's free on the site) is included. I've heard from a lot of you over the years who found me (and your kindred spirits here) through one of my products in an Ultimate Homemaking Bundle.
What does the Ultimate Homemaking Bundle include?
For the next five days (through the 26th), 51 products are sold together for the price of $29.99. If someone purchased all of the 51 products individually (which no one ever would), the full value would be $1298.36.
The key to deciding if the bundle is worth $29.99 to you, personally, is to add up the value of products that you'd like to have. I recommend you see if the stuff you would LOVE to have adds up to at least $100.
Products that add up to $31.50 would technically be a deal, but since we (as clutter strugglers) tend to be exceptionally frugal, I think the goal of $100 in value (meaning you're getting at least 70% off) is more realistic for making this decision.
Here are the products that caught my attention:
I'm not going to list all 51 products. You can go over to the Ultimate Bundles page to see them all. I'm only going to list the products that made me think, "Hmmmm, I'd like to get a look at that one!"
And then, each day this week, I'll go into a little more detail about these products, telling you which ones were as great as I was hoping (and which weren't), and which products surprised me by being amazing even though they're not on this list because they didn't initially interest me.
Here are the ones I was interested in, divided up by subject section. The italics after each product are the descriptions written by the product's creator.
In the "Clean and Declutter" section:
Cleaning with Essential Oils: Your Guide to All Natural Cleaning

(eBook) by Kristyn Bango $19.99




Learn about d

ifferent microbes and the M.I.C. and how to formulate effective antimicrobial cleaners.

Declutter in Minutes

(Planner) by Tracy Lynn $27.00




A planner that helps you to easily weave decluttering and organizing into your already busy day.

Journey to Clean 2020 Cleaning Cards

(Printable) by Leslie Lambert $8.99




Gives you simple c

leaning tasks on printable cards.

Motivated Moms Classic

(Planner) by Susan Cramer $19.00




A done-for-you checklist to clean and maintain your home!

Printable Housekeeping Checklists

(eBook) by Dana K White (THAT'S ME!!) $6.00




Printable checklis

ts to help even the most overwhelmed! 
Work Yourself Out of a Job Household Chore Templates & Checklists

(Printable) by Erin Odom $22.50




A packet of cleaning

cheat sheets and checklists to help parents teach their children how to clean various rooms around their home. 
The value of products in JUST this category that caught my eye: $103.48
Organization and Decor:
50 Days to Frugal

(Workbook) by Heather O'Donnell $19.00




Money saving mission

s to transform your finances one tiny step at a time. 

Dreams by Design 2020 Planner

(Planner) by Karen Schravemade $19.00




The planne

r that helps you make your big dreams into daily habits.

Holiday Planning Playbook

(Planner) by Emily Counts $22.00




This holiday planner i

ncludes everything you need to get organized and plan a stress-free holiday season.

Homemaking Bundle Trello Tracking Board

(eCourse) by Kristi, Paperless Boss $11.00




Track all the products and associated information in your bundle purchase electronically AND on the go! 

Room by Room Chore Checklist

(Printable) by Rachel Norman & Lauren Tamm $12.00

The room by room chore checklist helps your children know what chores to do, by room, with handy printable checklists.
The Confident Mom Weekly Household Planner and Supplement Kit (Planner) by Susan Heid $8.00 This will keep busy moms from all walks of life motivated, organized and on track with all their to-do items day after day, week after week, all year long.
Value of the products in this section that caught my eye: $91.00
In the Kitchen section:
Garden Harvest Recipes: A Plant to Plate Cookbook

(eBook) by Holly Bertone $7.99




Living a healthy lifestyle begins with the food you put inside your body – these recipes will help you start!

Quick Start Guide to Water Bath Canning

(eBook) by Victoria Pruett $7.50




Learn to water bath c

an jam, jelly, pie filling, salsa, pickles, and more!

Uncomplicated Kitchen: 3 Step System for Simpler Weeknight Cooking

(eCourse) by Ruthy Kirwin $64.00




A proven 3

-step system that will help you streamline your weeknight kitchen, and free up your time making dinner in the evenings. 
Value of products in this section that interested me: $79.49
Kids and Homeschool:
These are two different sections but I'm combining them because neither were really for my stage of life, but I'm checking things out for y'all!
Printable Kids Activity Book Mini Bundle

(Printable) by Corinne Schmitt $9.95




Five fun activity books to provide kids with hours of fun!

Art Camp: Everything You Need to Run Three Weeks of Exciting Lessons

(Workbooks

) by Cathy James $9.99 

The Homeschool Planner

(Planner) by Sean & Caroline Allen $9.97

This planner will give you all you need to plan out your next homeschooling year!
Exercise Around The World: Explore The Geographical Roots of Fitness through Movement

(eCourse) by Beth Learn $29.97




Teach your whole family about the origins of various exercise styles while getting a great workout!
Products in this section that (seem like they would) interest me (if I had young kids or homeschooled) – $59.98
Other sections:
The Ultimate Birthday Party Planner (Printable) by Nathalie Brown $17.00
This is a full system, a checklist and a workbook. It's the absolute BEST tool to focus your creative mind so you stay calm, organized, and have a great time planning your party.
Brighten Your Corner with Pretty Printables

by JoDitt Williams $47.00




A collection of

over 60 joyful designs with uplifting sayings & encouraging scriptures.
And the grand total of products I'd be tempted to buy if I saw them on their own is: $397.95
Go check out the bundle for yourself. Pull up the calculator on your computer or your phone and keep a running total of the values of products that catch YOUR eye.
See my other thoughts on specific products here: 
Printables (for Cleaning, Planning, and More) in the Ultimate Homemaking Bundle 2020
More Cool Stuff in the Ultimate Homemaking Bundle 2020
Go here if you get it every year and you know you want it! 
Also, know that Ultimate Bundles offers a 30 day money back guarantee.
--Nony