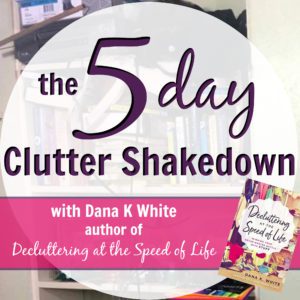 Christmas is over, and it's time to declutter. I used to think it was just me who got the itch to start decluttering on December 26th, but now I know it's a legit itch that hits a whole lot of people on this day.
If you came here because you wanted to get some inspiration or instruction or both, you're in the right place.
Decluttering is my specialty.
Not that I actually like it.
I've just had to learn how to declutter by doing it.
There are tons of free resources on this site, free podcasts galore to listen to while you work, and videos you can watch over on YouTube.
And, of course, there are my books to read or listen to: How to Manage Your Home Without Losing Your Mind and Decluttering at the Speed of Life.
But there's also The 5 Day Clutter Shakedown. Which I wish I'd named The 5 Step Clutter Shakedown. You don't need to set aside 5 days to use the process I teach in it. Watch the first video and work for ten minutes and your home will be better off.
This is an online course which includes five instructional videos. I teach you, through explanation and visual demonstration, exactly how to work through your clutter.
If your internet speed or learning style don't work well with video, there are also audio versions of each video and PDF transcripts of each video.
For the month of January, the code 2021 will take off $20, making the course $20.
Get the course here.
Watch this video to get an idea of the course!
--Nony