I'm so sorry, but this sale is over for this year. Sign up for my newsletter so you don't miss out on time-sensitive opportunities!
Most links in this post are my affiliate links!
As I promised when I shared the basics of the Ultimate Homemaking Bundle yesterday, I'm sharing my thoughts on specific products that might make the $29.97 price tag worth it for you.
If you haven't read yesterday's post, the basic concept of the bundle is that a whole-lotta digital products (more than 100 e-books, courses, and such with a total value over $2000) are bundled together and sold for $29.97 for a very limited time.
It's a great value even if you only use 5% of the products, but the sheer volume of things to look at in deciding can be overwhelming.
So I'm pointing out what caught  my interest, and since I get to see all the actual products, I'm giving you my opinion on some I think could make the bundle worth buying for you.
Every year the bundle is different, and it seems that every year I'm different. Different categories appeal to me more. This year, as I marked the products that caught my eye, I marked every single product in the Decor and Creativity category. This category has 10 products valued at $299.95. Maybe I'm into decor this year because I'm loving my living room so much. Did you see the post where I shared how I've finally decorated it??
I downloaded or signed up for each product, and here are my my favorites:
Brush Lettering 101 is a video course valued at $47.00 that I thought was very well done.
Here's what I know about brush lettering. It is popular. Crazy popular. When I traveled to Pinners Conferences for my book tour last year, I was pretty proud that my speaking sessions were very full.
But I couldn't compare to the sessions where people were learning brushlettering. Like, people were lined up way ahead of time to get into those classes.
If you want to learn the basics of this very fun skill, this is a great opportunity. Even if this course is the only product you use from the bundle, you'd be saving $17.
How to Choose Paint Colors for Your Home is an e-book, and although it's only 5.99 on its own, I found it incredibly helpful. I finally understand that undertones are a thing, how to identify them and why my paint color choices are typically wrong.
Hand Lettering: Greeting Words & Phrases for Cards & Notes Workbook is valued at $27.00, and while I can't imagine paying that much for it, it's a great compliment to the brushlettering course, as it has so many worksheets to practice words that you'd use when creating pretty stuff.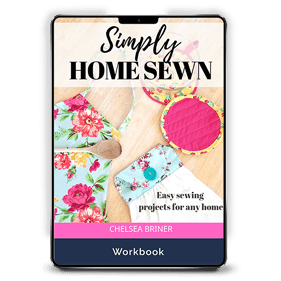 Simply Home Sewn (a workbook with PDF patterns valued at $9.99) has simple patterns for multiple projects for things around the house. Throw pillow, makeup pouch, etc.
These are the things from this category that most interested me after looking into the products. The value of just these four products is $89.98, and the entire Ultimate Homemaking Bundle is $29.97. 
A note about another product in this category: The Embroidery for Beginners course, while lovely, requires downloading all the videos. All the other courses that I've looked at are done on a site where you have to sign in to access them, but the videos don't actually take up space on your computer. Not crazy about that, and wanted you to know.
Remember that Decor and Creativity is only one out of many categories of digital products included in the bundle. Other categories are In the Kitchen, For Kids, Home Management, Faith, Parenting, Marriage, Organization, Self-Care, and Working From Home. Go here to check out all the products in the bundle. 
My video course, The 5 Day Clutter Shakedown, is included in the bundle in the Home Management category. Its normal price is $40, so even if it's the only product you use from the bundle, the $29.97 price is a good value. 
Go here to decide if the Ultimate Homemaking Bundle is a good value for you personally, so you don't miss grabbing it before May 6th!
--Nony