This is a post for my people. It's for those who have been around for a while and have seen the overall transformation of my home through decluttering.
It's not a post about how to decorate a living room.
I'm not a decorator.
I'm actually a little scared of decorating. Hence, the waffling for more than a decade about whether I should paint.
I say all that in hopes that you'll be kind. I'm so incredibly pleased with my newly decorated living room, and was a little in shock when I asked my blog assistant to dig up a photo of how it used to look.
I liked it. But I love it now:
Mostly, the brightness.
And the fact that I can have a blue rug. I always (always always) gravitate toward blue, so I'm beyond thrilled that it happens to be an "in" color for decorating right now while I'm actually decorating.
Not that I recommend waiting a decade to decorate until your favorite color comes back into style.
I'm going to share a little tour around the room, but a few things first.
I had help. My friend had recently painted her fireplace and I loved how it looked. After I had the walls painted last summer, I wasn't happy with how my fireplace brick looked with the new wall color.
She was happy to help me paint my fireplace, and then I also asked for some decorating help. She called on another friend who LOVES helping people decorate, and together they made the real changes.
They love decorating. I don't. They're confident about making changes. I'm not.
Their advice and excitement made me feel so much better about making changes.
I did have to be pretty adamant about there being such a thing as a Clutter Threshold and that mine is low, and I had to explain that while I absolutely love my friend's decorating style, I can't have the kinds of displays she has because mine would morph into clutter.
Rearranging makes a huge difference. I couldn't believe the difference they made, just on the first visit, simply by rearranging the furniture.
Also, rearranging what I already had on my shelves. I had my books (including the Polish and Chinese translated versions), on my shelf, but they made them look so pretty just by stacking them and putting a little blue glass vase (that I already had) on top.
They told me to caulk the cracks. I will someday.
How Have I Done With Keeping It Up?
Honestly, we're at week four, and I feel like the purposeful placement of each little thing that comes with actually decorating has made maintaining the room easier.
I'm scared to say that, but so far I seem to more easily notice when things are out of place. I also have a defined goal of how the room is supposed to look when we pick up. That seems easier (and more satisfying) than just "picking up."
Here's what it looked like this morning: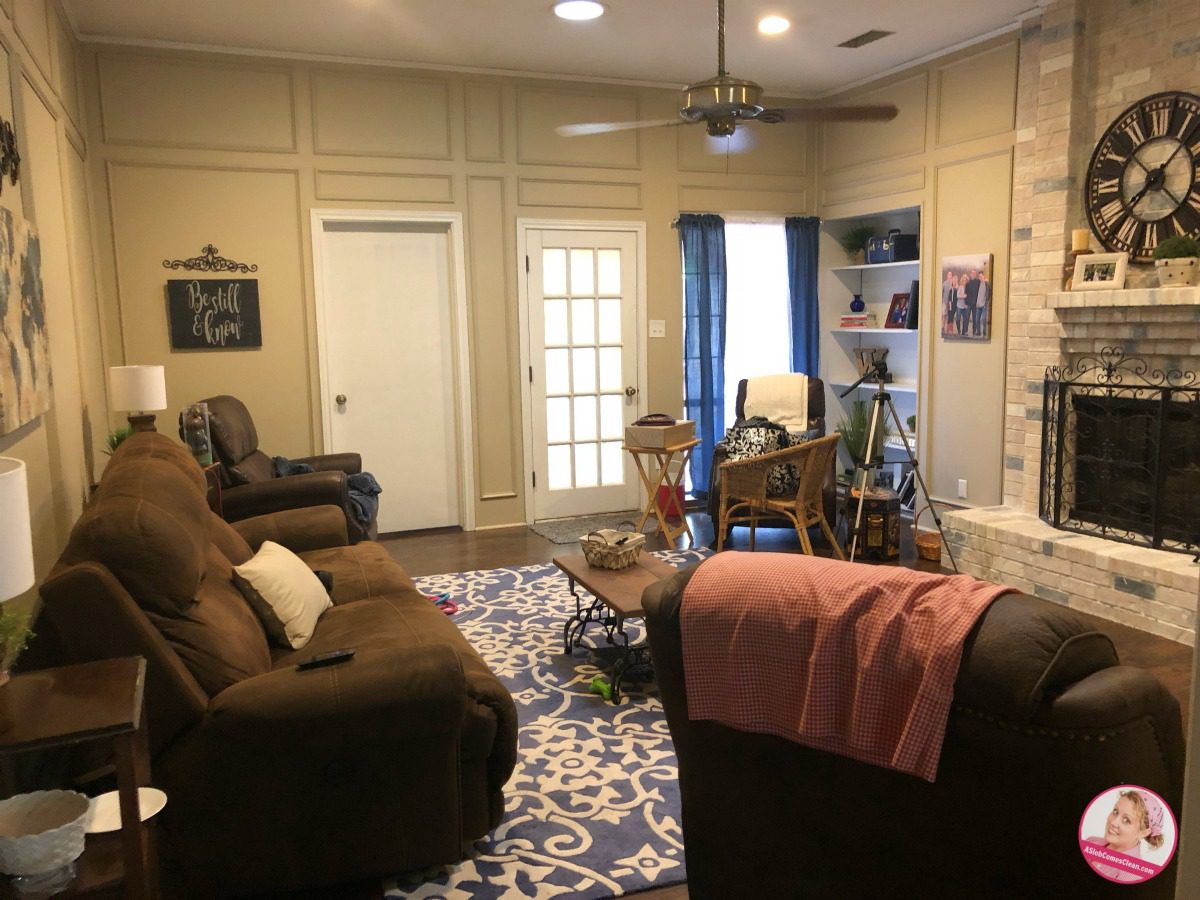 Here it is less than 20 minutes later:
That 20 minutes likely would have taken 5 on a normal day. I'm two weeks post-hysterectomy and I was moving slowly after a weekend of quite a bit of pain from overdoing things the minute I started to feel a little better last Friday.
Also, my family taking care of laundry while I couldn't means we temporarily have a Clean Clothes Chair again. They haven't yet embraced the magic that happens when you fold clothes as you take them out of the dryer and put them away immediately. I choose to be grateful.
A few other spots:
My friend's friend went shopping. I told her my dream was to have something globe-or-map focused for the wall. I couldn't believe she found the absolute perfect thing.
I love that I can hide my dog-water-hauling device behind the curtain.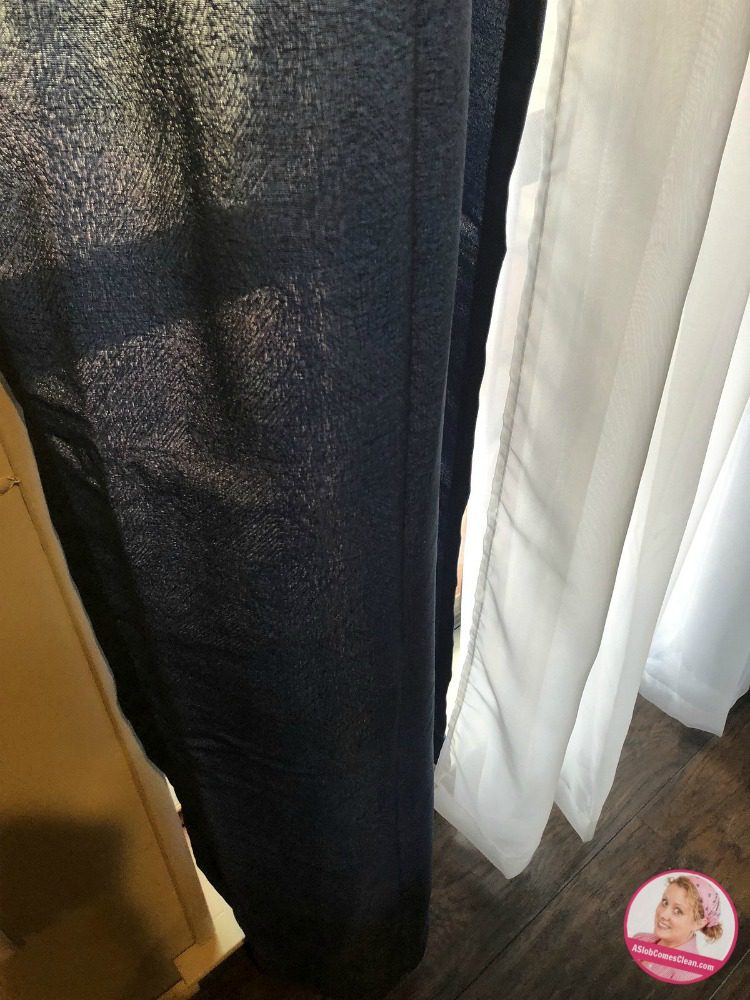 After they insisted on a basket for our remotes, I partially got over my basketphobia and started using one for my dog's toys. So many times, I've taken an after photo of my living room with a dog toy out in the middle of the floor. Now that they have a HOME, my brain realizes I'm not actually done if there's a green squeaky bone in the middle of my living room.
I also like how it's hidden from being seen easily from most of the room. I may paint it if I get really brave.
Other spots that make me happy:
Sorry about the rogue microphone.
The friend-of-a-friend who helped decorate makes the book thingies. I don't watch This is Us, so she's going to make one with three books that says "No Place Like Home."
Also, I've had that scruffed up piece of furniture for years, covered with something. They uncovered it and declared it worthy of being seen.
A decorating blogger would cover the plugs. I'm not one, so whatever. But I did have to share this spot. I have had these nesting tables for at least seven years, and I never knew this is how they were supposed to be displayed. Now, every time I see them, I feel happy.
A few final thoughts:
I'm not sure how I feel about the greenery. Some of it I love and some of it I don't. Mostly, my Garden Clubbin' Mama has turned me against the s-word (silk is the s word), and even though these aren't made of silk, and even though I can't possibly keep real plants alive, I feel weird about it all. I'm keeping them now, but we'll see.
I'm pretty sure at least one of the chair legs is supposed to be on the rug, and maybe the rug could be straightened, but those things are outside of my reality right now as I'm restricted to not lifting anything heavier than a gallon of milk.
My mom loves the painted fireplace. I was worried. She was worried. But she's so happy that it still looks like brick, just a different color of brick. Phew. Not that it really mattered since I just did it without telling her, but it's nice that she approves.
I recorded a podcast about this process and about my fears of decorating. You can listen to it here. 
The lady who helped me decorate has an instagram account called Decorating Dirt Cheap. You can follow her here. She shares all sorts of bargains she finds at places like Marshall's and Ross and more. She paid 3 and 4 dollars each for the throw pillows and lamps. She also makes cool stuff to sell like the book stack.
The family photo on the wall is by Canvas People. I have several photos on canvas by them, and love them all. Here's my affiliate link to check out their current deals. (They have amazing deals SO OFTEN!)