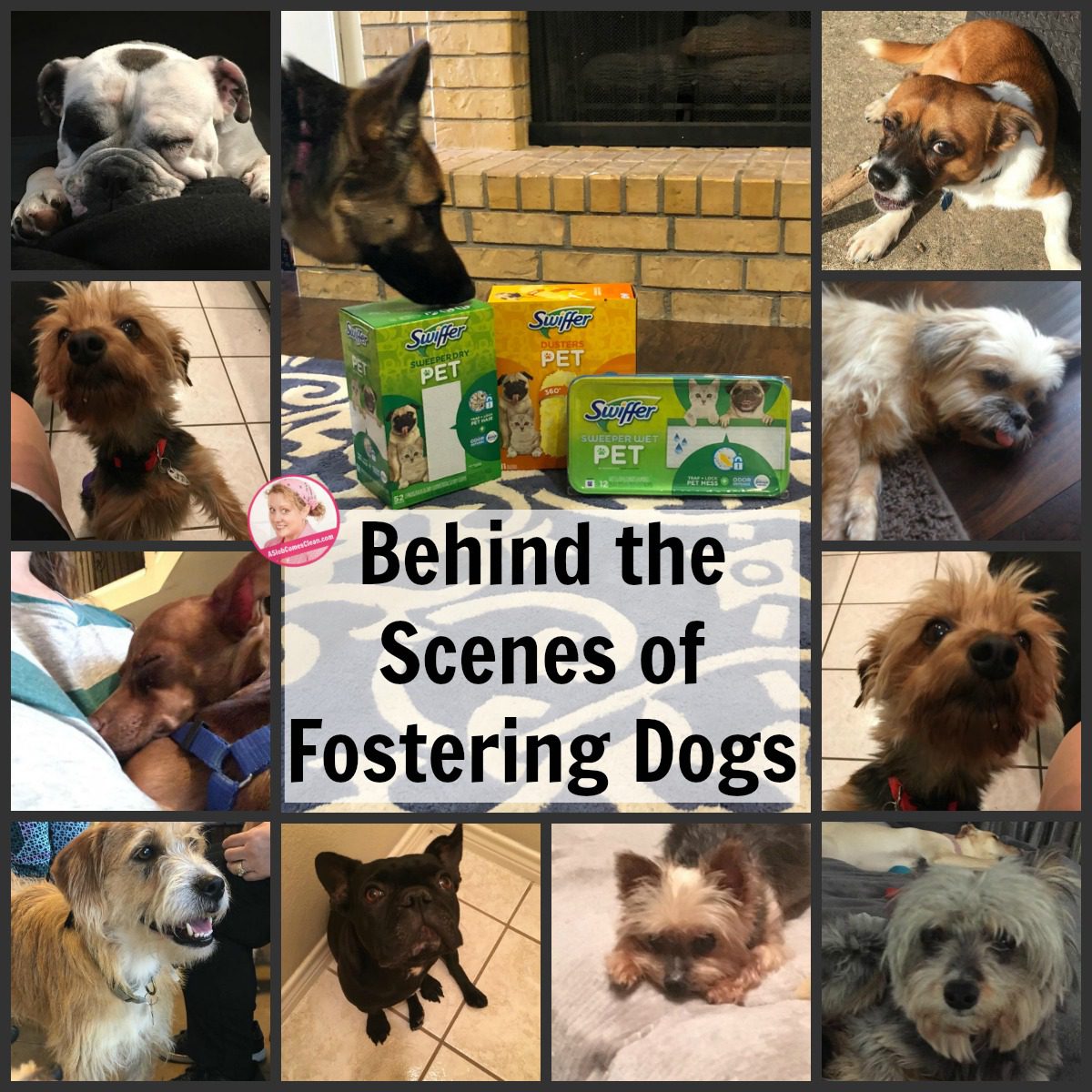 This post is sponsored by Swiffer. 
There are some common threads among those who relate to what I share about cleaning and organizing.
They are lovely people with great intentions about lots of things in life, not just cleaning and organizing.
Really. One of the most exciting things about sharing my deep dark secret on the world wide web has been meeting so many lovely friends.
I've shared how I use Swiffer in my own home to help me manage the realities of having two dogs, and how we manage dealing with rainy days and shedding puppies so much better with their pet-specific tools.
Today, I asked if I could share my best friend's story as part of my #SwifferFanatic Swiffer Ambassador gig. A few years ago, she started fostering for dog rescues and I've watched the process through her and have learned a lot about what is involved. Knowing that many of us are the types who wonder about such things, I'm sharing her answers to some questions I asked her in case this is something you've ever considered.
But first, a little background on Jenn. She has six kids and two dogs of her own. Do I need to say more?
She grew up with dogs, including the world's furriest chow that she found wandering the streets when we were teenagers.
She was always an animal lover, so this current way to volunteer her time and home is right up her alley.
How did she get involved in fostering dogs?
She wanted to do something helpful with animals, so she approached a few people who had rescued and posted about it on her community's social media pages. Jenn thought she'd go somewhere to volunteer, but found that most rescues are foster based.
Where do the dogs come from?
All different places. Most suburban shelters have a list of rescue groups they work with and if they're near capacity or have a dog with medical needs, they'll reach out to the rescue groups. Some are randomly found dogs, or dumped dogs, or ones whose owner has died.
What are your obligations, financially and otherwise, when you foster?
The foster family provides shelter, attention, socialization, affection and food. She also takes the dogs to adoption events, but doesn't have to stay with the dog at the events. If her family has obligations on the day of an event, someone will come pick up the dog to take it.
Watching Jenn post on Facebook, I also see that she's an advocate for the dogs. With six kids and two of her own dogs, she's able to post lots of snuggling photos and playing photos so people can see how the dogs interact. All the photos above (except my Cinder in the middle) are dogs she has fostered.
Rescues take care of medical care, making sure all dogs are vetted, up to date on shots, and usually spayed or neutered. They also handle advertising, putting the dogs on Petfinder, and adoption events. Jenn tries to take her fosters to the vet since she feels like they're less scared with her there, but others who foster can't always do that.
What are the advantages of a dog being in an in-home foster situation?
In a foster situation, dogs have the chance to get acclimated to living with a family. Because Jenn has had experience with dogs coming out of situations where they never had interactions with people, she knows to be patient as they learn to not be fearful. She also is able to not "take it personally" when a dog is scared because it's not "her" dog.  A scared dog isn't attractive to most adopters, so if she can work with them through that phase, the dog's chance of being adopted goes up a lot. Several of her dogs have been scared of men when they first arrived, but with her husband, two teenage boys and two elementary boys, they had the chance to learn to get over those fears.
Sometimes, people come to her house to meet the dog and since the dog is comfortable there, they get to really see them at their best. Jenn can also answer questions about personality, and can share if a dog needs to be in a home without kids or other animals. She also knows exactly where the dog is in the house-training process.
Is it hard to let them go? Have you ever considered keeping a dog?
Yes. "Foster fails" are very common and no one gets upset about them. That's what her organization calls it when someone decides to keep their foster dog.
Jenn hasn't kept any yet (though she's thought about it) because she knows she'd have to be done fostering if she ever foster failed.
What's the biggest challenge of constantly bringing new dogs into your home?
Before I even asked, Jenn said that the number one challenge when fostering dogs is that almost none of the dogs who come into her home are house-trained when they get there. That means there's a lot of cleanup. Which means Swiffer products are a huge help.
I'm excited that Swiffer is sending Jenn some of their great pet-specific products to help!
If you're in the "thinking" stage about either fostering or adopting a new pet, I hope this information is helpful. While Swiffer is there so you #dontsweatyourpet and all of his/her messes, perhaps checking into adopting from a rescue will help with some of your other fears.
You don't have to fear muddy paw prints (or worse) and shed filled pet messes this spring with the help of the Swiffer Sweeper and Dry and Wet Pet Refills with Febreze Odor Defense that Trap + Lock or Swiffer Dusters and Heavy Duty Pet Refills which you can find at Kroger.
Tell me about your fur baby in the comments to be entered to win a $50 prize package of Swiffer products! Continental U.S. only (sorry!), must comment here on the site, giveaway will close April 4, 2019 at 9 p.m. Central. Winner must respond to my email within 48 hours or I will have to choose another winner. See all my giveaway policies here. 
--Nony