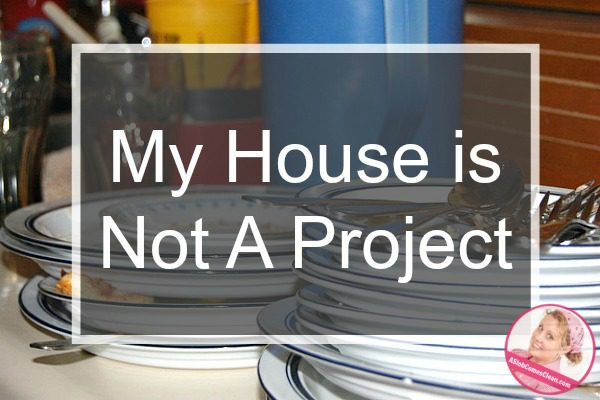 For most of my adult life, I treated housekeeping as a project without realizing that was what I was doing.
I would clean like a maniac, get it "perfect" and then feel completely shocked when I looked up three days later to see it was back to being a mess.
When I started what I now call my deslobification process (out of total desperation), I didn't know what to do, but I knew the way I'd always done things hadn't worked.
At all. 
I started as small as I possibly could, focusing on creating habits and keeping up with them. I was so surprised when the daily habits (doing dishes, sweeping the kitchen, checking the bathrooms for clutter, etc.) had a much bigger, and more lasting effect on my home than any of those marathon cleaning sessions ever did.
It was only after I saw the difference daily tasks made that I realized I was much better off focusing on the small things than on exhausting cleaning "projects" that didn't have a lasting impact.
Decluttering can be a project. That's the one thing I like about it. Once something has left my house, it's gone. (Not that other things don't appear to take its place.)
But even with decluttering, I have to fight against viewing my overall house as a project.
I used to think I needed to wait until I had a chunk of time available (hours, days or weeks) to declutter.
Which meant I rarely decluttered.
Now, I know I can make decluttering progress in five minutes. Or even five seconds, by throwing away trash or sticking something in the Donate Box as soon as I realize it's clutter.
Instead of putting it back on top of the pile and lamenting my lack of time to spend on a decluttering project. 
And when I do have five hours to spend decluttering, I make so much more progress because I don't have to first peel back the layer of stuff that should have been thrown in the trash or stuck in the Donate Box a long time ago.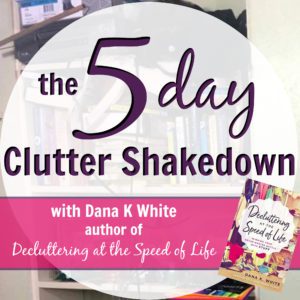 If you're desperate to declutter but suffering from Decluttering Paralysis, you need The 5 Day Clutter Shakedown. You don't need five days to devote to it. The steps I teach you will help you make progress (and only progress) in any amount of time you have available, even if that's only five minutes.