A big part of my problem, pre-deslobification process, was not understanding how organizing solutions worked.
Because they didn't work.
At least they didn't work for me. And they definitely didn't work AT ALL like they did in the pictures on the package.
I now know why.
I wasn't accepting that any organizing solution, no matter how nifty or cool or perfect, was a container.
Because I didn't know what a container's job was. 
But once I understood that containers are limits and that serving as limits is their most important function (especially for people like me who don't notice limits), I was able to use them.
Not that they never get wonky again and need decluttering again.
They do.
Like this towel wall-hanging thingy. It worked great for towels in our old house. But in this house, I put it in my closet and started using it for belts and scarves. It works great for those, too.
But over time, other things ended up on it (since that's how I roll), and it needed to be decluttered.
Again.
I had my trash bag ready, but I didn't use it. My Donate Box filled up quickly. Understanding that this space was the limit to how many scarves and belts I could keep naturally revealed which scarves don't deserve towel-rack-turned-scarf-and-belt-organizer space.
I accepted that the pretty blue one is pretty but I'd never worn it in the two years I've had it.
The wool hat (yes, a hat ended up there) was too itchy to deserve space.
Other things left, too, with pretty much no emotional trauma.
And when I came to something that did cause internal angst, I kept it. Because once I'd purged the things that were obvious, there was space for it. It wouldn't win out over something I use all the time, but it gets to stay because it fits in the container.
Watch the video! I walk and talk through the process.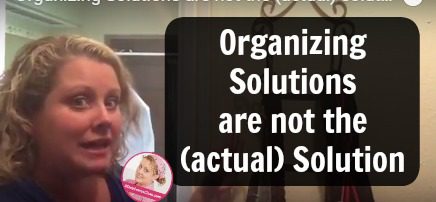 --Nony