So sorry, but the bundle has ended. If you want to be sure you don't miss future time-sensitive things, sign up for my free newsletter here.
Today is the last day to get this year's Ultimate Homemaking Bundle! If you've been thinking about getting it, don't wait until it's too late!
The Ultimate Homemaking Bundle is a collection of more than 100 digital resources (e-books, online courses, printables, etc.) with a total value of more than $1980. For a limited time, they are being sold together as a "bundle" for $29.97. 
Here's the first affiliate link to the bundle for this post: Ultimate Homemaking Bundle 2017.  Rest assured that every link to it in this post is also my affiliate link. 
Today, I'm answering the most common questions I get about this crazy short term sale, pointing out some high value products that are included which might help you decide if the cost of the bundle makes sense for you, and linking to the videos I've made and posts I've written about the sale in case you've missed any.
Q: How do I see what's actually included so I can decide if the $29.97 price makes sense for me? 
A: Go over to the sales page, scroll down approximately 1/3 of the page (watching the little scrolling measure marker thingy at the side of your computer screen), and see the category icons. Click on an icon and it will take you to the product images for that category. Scroll over a product's image, and you'll see a description of that product and its value.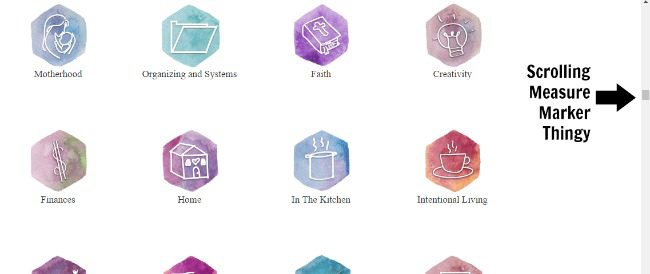 Q: Do I have to download all 106 products? 
A: NO! Definitely not! Once you purchase, you will be given a login to the download area. You can download individual products, picking and choosing the ones you want. You will have access to this download area for one year.
Q: Are all 106 products about cleaning and organizing? 
A: No way! That is just one category! I encourage you to go look around, but some other categories are finances, intentional living, creativity, motherhood, self-care, marriage, motherhood, work and life balance, recipes and faith.
Q: Are the same products included every year? 
No. Each year's bundle is different. This year, my e-book 14 Days to Opening Your Front Door to Guests is included for the first time! (It didn't even exist last year at this time!) There are only three products out of this year's 106 products that have been in a previous bundle, and none were in last year's bundle.
I'll be honest. I'm working hard on Book Two right now, and haven't had time to go through every single product. I focused on telling you about the amazing printable planners and chore charts. But here, I'm listing the products with a value of $15 or more in each category. To be sure, there are lots of great things with values less than that amount, too!
Creativity
A Mom's Guide to Better Photos: A Beginning Photography Class for Moms With Any Type of Camera by Meg Calton ($99.00)
Mother's Little Helper: Clean Up Your Photos with Photoshop Elements by Melissa Shanhun ($30.00)
Adventures in Bible Journaling: An Extensive Beginner's Guide to Art and Bible Journaling by Bethany Floyd ($18.97)
Faith
Curious Living Summit by Logan Wolfram ($29.99)
My One Thing Alone: Going Deeper with Jesus Together by Asheritah Ciuciu ($36.00)
Finances
How to Be Frugal: A Guided 10 Unit Course That Will Teach You How to Be Frugal Online, In the Store, and In Your Home by Jennifer Roskamp ($99.00)
Real Life Money Plan: Designing a Money Plan to Fit Your Real Life by Jessi Fearon ($49.00)
Home
Cozy Minimalist Decorating Class by Myquillyn Smith/The Nester ($39.00)
Don't Wait, Decorate!: An Encouraging Guide to Decorating by Chelsea Coulston ($24.00)
Yellow Prairie Academy Lesson 1: The Living Room – How to Create a Cozy, Pulled-Together Feel in Your Own Living Room. by Janna Allbritton ($25.00)
In the Kitchen
What's 4 Dinner Challenge Meal Planning eCourse by Erin Odom and Holly Dvorak ($47.00)
Intentional Living
30 Days to a Simpler Life eCourse by Brian Gardner ($15.00)
A Peaceful Home by Crystal Brothers ($39.00)
Productivity and Well-Being eCourse by Lisa Grace Byrne ($47.00)
The Inspired to Action Planner by Kat Lee ($15.00)
Your Morning Manual: A Guide & Workbook for Resetting & Maximizing Your Mornings by Emily Bredeson ($15.00)
Marriage
Boost Your Libido Course by Sheila Gregoire ($39.00)
Motherhood
Becoming a Deliberate Mom: A Reflective Parenting Workbook by Jennifer Bly ($15.00)
Boundaries and Margins Webinar by Saren Loosli ($15.00)
Parenting Manual 101 by Becky Mansfield & Rachel Norman ($34.00)
The Mom Conference Complete Package: 20 Interviews by Experts by Desi Ward and Saren Loosli ($87.00)
The Temper Toolkit: How to Take Control of Your Temper Before You Lose it! by Lisa-Jo Baker ($29.00)
Organizing and Systems
Bullet Journaling for Book Lovers by Anne Bogel ($15.00)
Family Chore System & Planner by Mandi Ehman ($17.00)
Revive 30-Day Challenge by Jessica Fisher ($27.00)
Sweet Life Planner: Vanilla Edition by Laura Smith ($35.00)
The Paperless Home: How to Use Evernote to Organize Your Life by Abby Lawson ($32.00)
Self-Care
30 Days, 30 Ways for Mothers to Take Care of Themselves by Angela Henderson ($19.95)
Finlee and Me Self-Care for Mothers Workbook by Angela Henderson ($29.95)
Breathe: A Faith-Based Journey Toward Margin by Amy Blevins ($49.00)
F5 by Beth Learn ($19.95)
Kitchen Time Action Pack: Healthy Moving to Help You Build Strength, Increase Flexibility, and Improve Energy While You Work in the Kitchen by Jen Hoffman ($29.97)
Mama's Best Self: Where Frazzled Mamas Find Peace by Amanda Rueter ($75.00)
The SAHM Wardrobe Basics Builder by Alison Lumbatis ($29.00)
Work + Life Balance
Busy Moms Building: 12 Steps to Running Your Own Online Business for Busy Moms by Monica Froese ($29.00)
How to Land Your First Work-at-Home Job by Angie Nelson ($24.00)
Stretched Too Thin: 10 Days to Overcoming the Hustle and Thriving as a Working Mom by Jessica Turner ($39.00)
Streamline Your Side-Hustle: A Comprehensive Guide to Balancing Your Blog with the Rest of Your Life by Erin Mellon ($15.00)
Go check out the bundle and see all the products included here.
There are also bonuses you can claim with your purchase, and some of them are physical products.
$15 store credit from Cultivate What Matters (international shipping available)
Free 1 month subscription from Kiwi Crate, $20 value ($15 off $50 shop purchase for existing customers, shipping available to U.S. & Canada)
Free 1 month MightyFix shipment from Mighty Nest, $17 value ($15 store credit toward next add-on order for existing MightyFix subscribers, international shipping available)
One project box from Detox Project Box, $25 value (shipping available to U.S. & Canada)
Free 1 month subscription from Bookroo, $18 value (box of past favorites for existing customers, international shipping available)
Orglamix Lip Balm Kit, $15 value (international shipping available)
$15 store credit from Strawesome (international shipping available)
Digital download of the 2017 Hope Ink Calendar, $20+ value -or- $15 credit + 3 art prints from Hope Ink, $99 value (international shipping available)
Homeowner Lifetime Membership from HomeBinder, $120 value (digital)
Free 1 year annual membership from MollyGreen.com, $29 value (digital)
Other Things I've Shared about the Ultimate Homemaking Bundle
Post where I share how to decide if the 29.97 price is a good value for you – Printable Planner Choices included in the bundle
Post – How to ONLY Print One Page
Video where I show pages I printed from some of the products
FB Live where I showed how to check out categories on the sales page and how to download products once you purchase. 
FB Live where I talked about printable planners and chore systems and showed example pages from them
If you're ready to go straight to checkout, go here.
If you'd like to check out all the products and decide if the 29.97 price is worth it for you, go here.
--Nony