Want to only print one (or two or three) pages of a PDF or a Word doc, or pretty much another computer file?
Here you go.
Disclaimer: It's very possible that I'm delusional thinking there are people out there who don't know this. Except I remember a time when I didn't know this.
And I remember learning it, and feeling a little silly that it was right in front of my face all those times I didn't know it, but also feeling relieved that I finally knew it.
Also, the main point of me sharing this tip/obvious-info is to remind you about the Ultimate Homemaking Bundle which has over 100 digital resources worth more than $1980 bundled together for the amazing price of $29.97 for only a few more days (through midnight May 1st).
There are courses on decorating and balancing life as a working mom, online conferences and recipe books and lots and lots of other things.
And I'm an author and affiliate in this bundle.
You can check out the bundle here.
Or, I wrote a post here about printables included in the Organizing and Systems section that I found to be really great. There are chore systems, various printable planner options, home binders, and my e-book 14 Days to Opening Your Front Door to Guests. In that post, I also give my advice for how to figure out if the cost of the bundle makes financial sense for you.
Hence, this post. Because even within the printables you love, love, love, you'll likely not want to print every single page.
If you don't see the print option, hover your mouse near the top of the document, and the printer icon will appear. Make note of the page number(s) you want to print.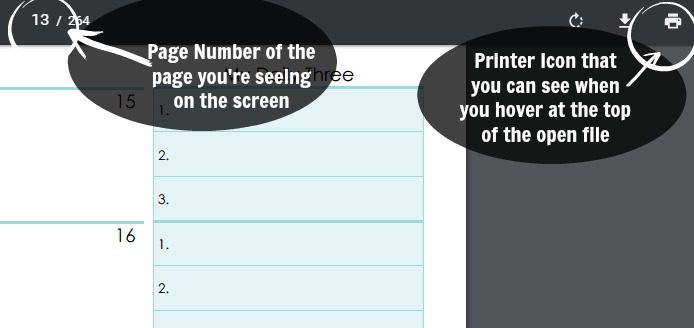 Click on the Printer Icon.
Where it says "pages" select the option below "all." Next to that is a blank space where you put in the page number you want to print. If you want to print more than one page, put a comma and a space between each page number you want to print.
Now hit print!
If you're having trouble finding the printer icon, click on "file" or the … at the top of the file and this will usually take you to a menu that includes "print."
Go check out the Ultimate Homemaking Bundle now, before it's gone!
--Nony