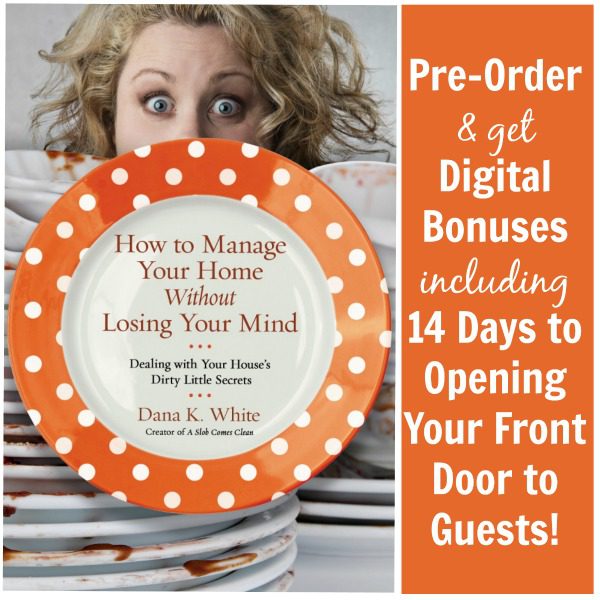 Updated: While the pre-order bonuses are no longer available, get the book! Get it today if you choose a digital version! Also, sign up for my newsletter so you don't miss time-sensitive things in the future!
How to Manage Your Home Without Losing Your Mind: Dealing With Your House's Dirty Little Secrets is out!
Out in the world!
Out on its own!
Available to be misinterpreted and misread and hated! Oh. Wait. That last line was just my author-insecurities coming out.
Honestly, I'm ready. The book is ready. And I'm so excited to share it with you because I know it's exactly the book I desperately needed when I was ready to start this deslobification process. While there are people who definitely don't need it, I know for a fact there are so so many who do.
My goal now (and for the next chunk of my life) is to get the word out about the book so it can reach those people who so desperately need it.
And that's where I need your help. 
If you already know you are going to get the book, can you go ahead and pre-order? I'm not sure about all retailers, but the one where I pre-ordered it (yes, I totally pre-ordered my own book . . . ) says I'll get it ON November 8th, the day it comes out!
And y'all, you know what else happens on November 8th this year, right? Mmm-hmmm. Elections. So if you think you might need a distraction on that day, won't it be great to have this book to take your mind off of politics?
Here's the thing. Pre-orders aren't everything. You'll be able to get the book whenever you want, but pre-orders help so so much in making sure others know about the book. Retailers look at pre-order numbers to decide if they'll stock the book in their stores. You know there are people who don't do much online, right? People who find the help they need by walking around bookstores? They need this message of hope, too.
I've been working hard on several special digital bonuses for those of you who pre-order, and they're ready for you to claim!
I've written a brand-new short e-book called 14 Days to Opening Your Front Door to Guests. You'll also be invited to join a private book club that will meet in a secret Facebook group weekly starting the week of November 15th. And, you'll get habit reminders in printable and/or screensaver form! This is all free only for those who pre-order and fill out this form! After you submit the form, you'll go to a page with the link to claim the bonuses!
Things to note:
You will only get access to the bonuses by filling out this form!
The bonuses are digital! (Not physical, like the book!)
You MUST fill out the form to get your digital bonuses. I do not have access to any information about you at the retailer where you pre-order. None. Not a bit. So even if you pre-order the book at each and every retailer that exists in the entire universe, but you don't fill out this form, you won't get any of the digital bonuses.
You do not automatically receive the digital bonuses when you pre-order How to Manage Your Home Without Losing Your Mind. You must fill out this form to get the bonuses.
I am fully aware that the last two explanations were two versions of the same explanation. Watch what else I'm about to do.
The book is a physical, pages-and-ink-and-everything book. The bonuses are digital. You won't be able to touch them. They'll be on your computer (or phone or tablet or whatever). They will not arrive with the physical book, but you'll get access if you fill out this form.
You can order any form of the book (print, Kindle or Nook, audiobook) and get the bonuses. (But only if you fill out the form.)
The form asks for your order confirmation number. This is easy to find. Search your email for "How to Manage Your Home" and the email you received when you pre-ordered should come up. Your order number is on that email.
You can also sign into your account at the site where you pre-ordered and find your order there. On some retailers, if you go to the item page for the book, you'll be told you've already ordered and be given a link to your order details: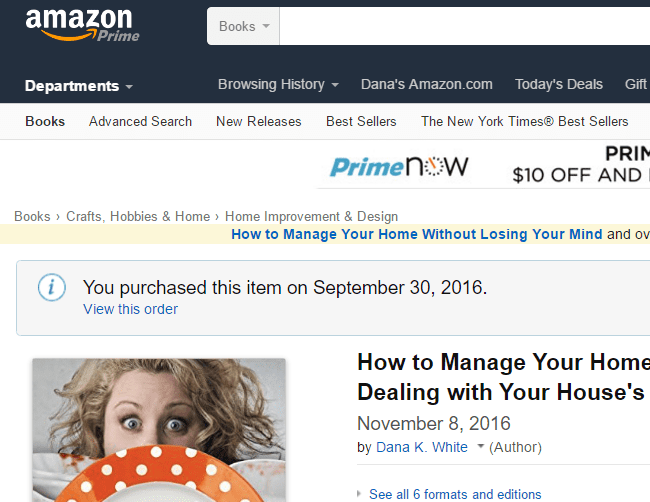 Helpful hint: If you are looking at your email or at the order details page, but you're just not seeing your order number, Press Control and F at the same time (on a PC) and type in "order" in the search bar that appears. Your computer will highlight that word on the page that you're on. Cool, huh?

If "order" doesn't work, try "confirmation" or something like that. Different retailers might use different terms.
If you have questions (after reading all of those instructions and details and clarifications) email me at [email protected] and I'll help you out!
Go here to pre-order and then here to fill out the form!
Thank you SO much to those who have already pre-ordered and to those of you who order today! 
More about How to Manage Your Home Without Losing Your Mind
Some quotes from some of the early readers:
I have read every bestseller book out there to help me get my house under control.  I can identify the "stuff" in my home and the items that bring me joy.  I've worked through "how to" checklists and posted purging questions wherever I've decluttered to help me make decisions.  And even though I found valuable tidbits in all of it, none of those books gave me hope for a real change in my household until I read How to Manage Your Home Without Losing Your Mind. The Container Concept hit me like a ton of bricks.

Stephanie M.

As a card carrying artsy fartsy slob, I not only enjoyed this book, I needed this book.  When I was asked to read a book about cleaning and decluttering, I was a bit hesitant.  I felt like a failure already.  Did I really need to read yet another book full of tips and tricks that would leave me feeling worse?  From the first page, I was put at ease.  It's okay just to do the dishes?  Really?  I didn't have the usual feeling that I needed to just fire bomb my house and start over.  This book gave me hope!  I can do this! The appendix alone is worth buying this book.  I want to print it and glue it to my wall as a life map.  Dana has found a way to make life easier for those of us who are cleaning challenged.  She has walked it herself and shares her journey with honesty and humor.  Thank you Dana for giving me permission just to "do the dishes".  I woke up this morning to a clean kitchen and toasted you with my cup of coffee.  Tomorrow I may sweep the floor.

Angela S.

I laughed my way to a truly clean(er) house!  How to Manage Your Home Without Losing Your Mind doesn't just tout another organizational method that sparks inspiration and then fizzles. Dana White uncovers the reasons most organizational ploys fail and delivers real, practical, attainable hope! Adjusting my thinking to reality about managing my home has already set in motion sustainable change. This is the first organization book that I have ever read that was written by someone who isn't naturally organized.  And I loved it.  No judgement, no superiority.  Just a whole lot of real, practical help with a good dose of humor and hope.

Shelby K.
And you can see the table of contents here:
Go here for information on where to buy or order the book!
Save
--Nony