Dana/Nony here: I loved this email from Shruti, who lives in India. First of all, I love hearing about life in other parts of the world. But I also love how she applied certain principles about clutter to a home that is run very differently from mine. Clutter can be a problem anywhere.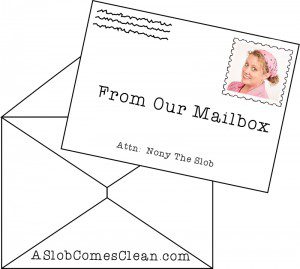 Dear Dana,

I came across your blog a long time back, but the 's' word put me off and I never actually read anything. Last week, I stumbled upon your podcast and I remembered your blog. I have been reading it backwards AND listening to your

podcasts

(backwards ;)) since I have rediscovered you!

I just wrote to say that I can SO RELATE TO WHAT YOU SAY!!!

 

I am a full time quilter, juggling motherhood, being a Brand Ambassador, and eBook author,  regional representative for SAQA for India and SE Asia, a quilting instructor, add to it a mix of motherhood (I have only one child – he's 10 now), the strain of living in a joint family (like millions of Indians do), being the ideal Daughter-in-law to my super awesome parents-in-law and a wife!

I have one full time maid (she comes in for 4 HOURS EVERYDAY!- yup, even weekends and holidays!), one part time maid (I can actually hear you gasp now) who comes in for an hour everyday AND a cook who comes in EVERY EVENING to make dinner!

We Indians make a lot of fuss over food. So I actually have to cook 2 meals for the entire family (Breakfast & Dinner – which I have delegated). I also make fresh flat bread and rice every day for Lunch! My MIL makes the veggies and the Dal – We have a full meal – lunch & dinner – Flat Bread (Chapati)+ Veggies (usually cooked with some spices and oil) + Rice + Dal (a kind of runny gravy – not very spicy) + salad! And that is a lot of work! Breakfast is where I can get creative.

With all my luxuries, how can I relate to you?

Well, my house is nowhere the immaculate place that it should be with all the household help that I have! I and my husband actually have fought over the state of the house!

I was listening to your podcast about hiring help and ONE SENTENCE made so much difference!

You said – the hired help cannot give you a clean house if it is not decluttered! And that struck me! The simplicity of it and yet the immense-ness of it!

Thank you for lighting that spark in my brain!!! I have been decluttering like crazy for the past few days! To the point that my son actually started putting away all his toys into his cupboard lest I should get rid of them!

I can already see the difference! I declutter ONE shelf every morning before I leave! It takes barely 15 mins and then I do not put everything back, but ask my maid to clean the shelf and put stuff back! I have also started using containers on shelves – that makes it even more simple!!! I have seen so much difference in the last few days! I actually come back to a cleaner home!!! I started with

the visible spaces

– Living-Dining areas – and the difference is noticeable!

We actually share a formal living room with my in-laws and we have our own kitchen! So the dining space and the living space on our floor is combined into an informal area! That's the first room that anyone who comes to 'my' home sees – My in-laws live on the floor below so if the guests aren't close enough, we do not invite them upstairs!

I feel so much better when I come home in the evening!!!

Love your blog and your podcast as well as your blogcast!!!

Just wanted to say Thank you!

Lots of hugs from India!!!

Cheers,

Shruti

P.S. It is pretty normal for a home in India to have multiple maids coming in everyday. My parents have 3 maids + a watchman just for the 2 of them!
My podcast about hiring cleaning help? Click
HERE
to listen in!
Save
Save
Save
Save
Save