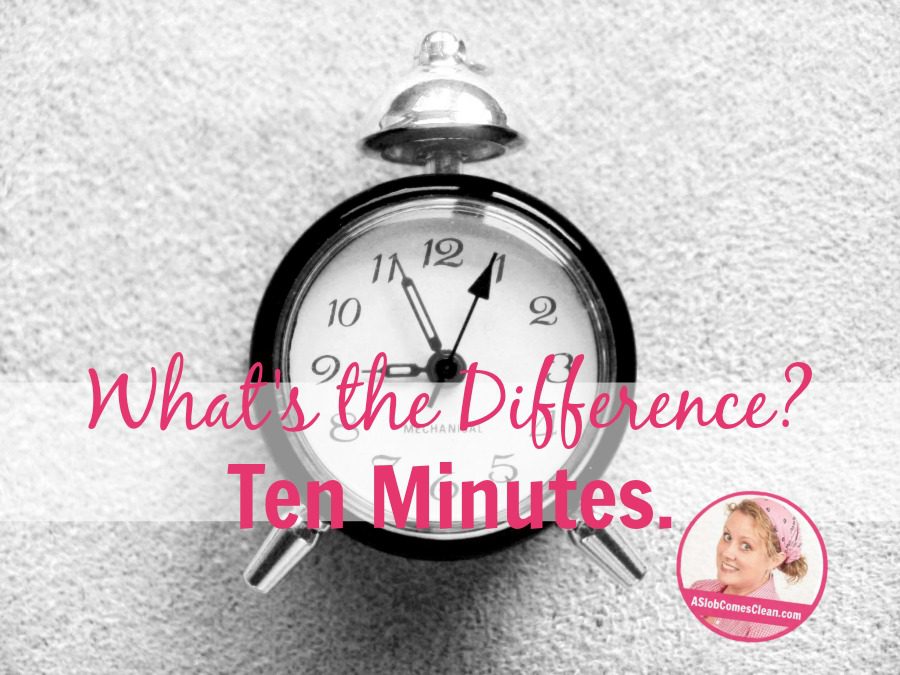 What's the difference between "I can't do this! My house is out of control! I'm doomed!!!" and "Aaaahhhh. I feel so much better now"?
Ten minutes.
On last week's podcast, I shared a reality check. My house was a wreck. A bigtime wreck brought about by my current Tunnel Vision writing this book that's due in less than a month.
I'm stressed, my brain is completely consumed, and the last thing I can think about right now is how to deal with all this mess that escapes my vision except in sudden, overwhelming, panic-inducing moments of clarity.
Moments when I stuff the panic down and convince myself there's nothing I can do right now, and it's best just to keep the lights out and write in the closet and pretend we're not home if someone drops by.
But on the same night I made my True Confession on the podcast, I had a moment of clarity at just the right time and declared there would be a ten minute pickup between the end of dinner and the beginning of watching Survivor (a much awaited family TV time).
Ten minutes?!?! My kids who already slump their shoulders at a five minute pick up were truly horrified. But they did it.
And ten minutes later . . . the groceries (purchased two days prior) were put away in the pantry, the kitchen was cleanish, and the living room looked pretty good.
And my panic was significantly reduced. Not gone, with the looming deadline and all, but reduced.
And I was reminded again that my love of the words "all" and "nothing" and "always" and "never" doesn't serve me well.
I can't always do it all, but there's never a time I can truly do nothing. (see what I did there?)
Who knew ten minutes would make such a difference?
I did. I totally did. I just needed to remind myself.
Like always.
Save