That's a how-interesting-so-that's-the-way-it-works kind of "huh."
Not a Texan version of "Pardon me?"
I love (affiliate link alert) my dishwand. I've blabbed about it already this week. And I really love using my favorite mug to keep it clean and dry and out from under dishes in the sink.
But alas, about three weeks after I'd come up with this oh-so-fabulous-and-couldn't-be-any-more-perfect solution, my face fell when I saw it in the bottom of the sink, its handle in the garbage disposal.
I'm not sure how it got there, out of its designated home. I could probably pin it on one of the kids, but it's not like I've never done that. By "that" I mean: come up with a perfect solution/spot/routine, and then life happens and I don't put the item back in that spot and all is lost.
The "all is lost" part is overly-dramatic, but it's how I roll.
I think that attitude is why the "a place for everything, and everything in its place" concept that Fancy Homemakers chant with a smile makes me tilt my head slightly while my eyes glaze over.
I felt the sadness of another failed solution, another not-put-back-in-its-place item, but then I realized I didn't have to be sad.
I didn't have to mourn another System Gone Wrong.
All I had to do was put the dishwand back in the mug.
Which is so much easier than crying. Y'know, with the tissue and the blotchy face and the runny nose and all.
And it hit me that A Place for Everything is how people pick up their houses so quickly. They don't have to moan or groan or stare at an item for ten minutes wondering where to put it. It's not that nothing EVER gets out of place. It's just that when it does, there's an angst-free place to put it.
Getting rid of A LOT of stuff and asking myself my two (and ONLY two) decluttering questions means most of my stuff does have a place. (Not all, but I'm excited to say most.)
My dishwand has a place.
So put it there.
Huh. Pretty easy. Who knew?
If you're overwhelmed and feeling panicky because you think you will never get to the point where even most of your stuff has a place, you need my books. Check them out here.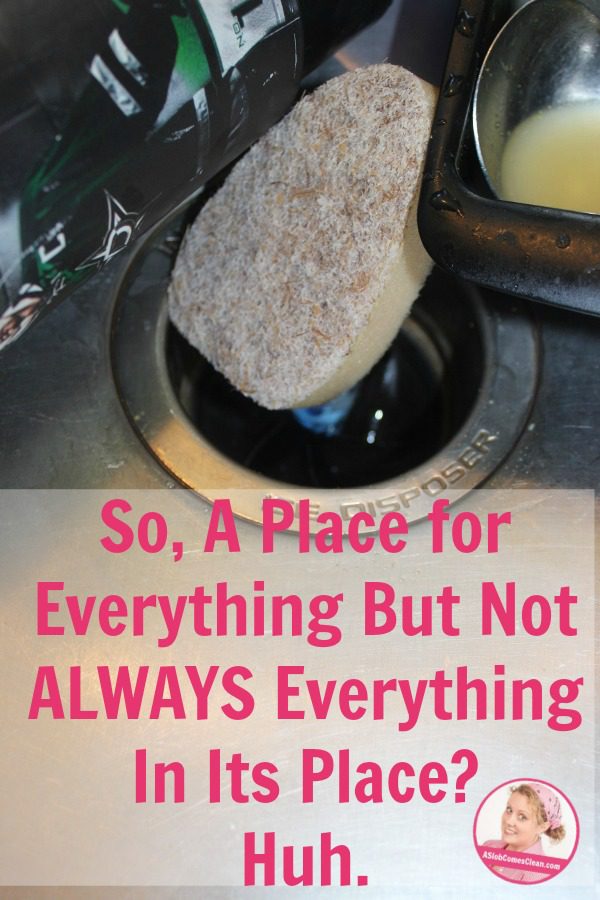 Podcast (aslobcomesclean-comfeeddailyaudioblog): Play in new window | Download
Subscribe: RSS
Save
Save
Save