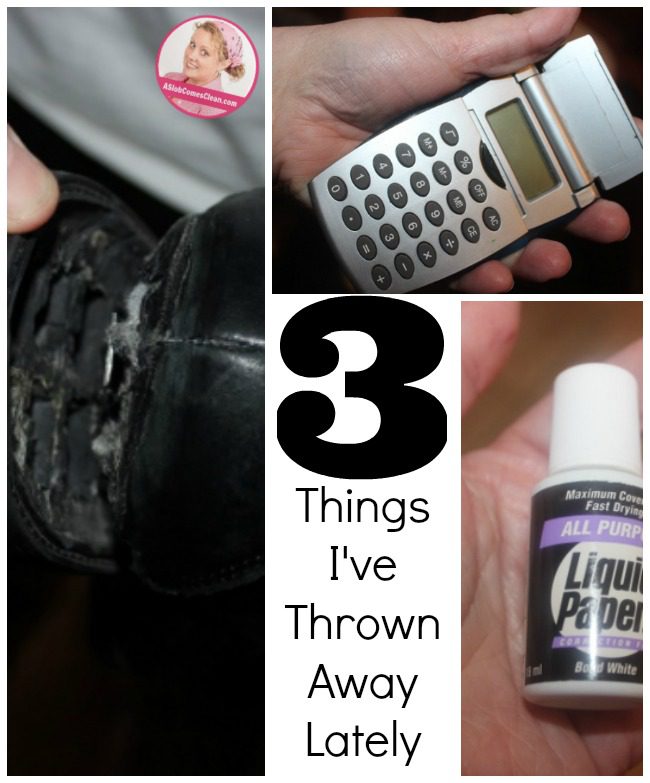 I'm a hemmer.
Not the kind who follows through on the logic of buying a way-too-long pair of pants for a bargain price.
I'm a hemmer/hawer.
Like, I take a while to do things that shouldn't take any time at all. Because I hem and haw about it.
So I'm (ridiculously) proud to announce three things I've pitched lately. Things I pitched (almost) right away. With (almost) no hemming nor hawing whatsoever.
1. A calculator that doesn't work. It's not solar. It was a freebie I probably picked up at a fair. I was only trying to use it because I didn't feel like walking ten feet to the next room to grab my phone.
2. A broken shoe of Hubby's. I pitched it right away, so let's celebrate that. We'll conveniently ignore the fact that it was at the bottom of a pile in the master bedroom and had been there for a long while and that I have a vague memory of lamenting the general awfulness of that shoe with Hubby.
3. Liquid Paper.
This one was hard. I was SO PROUD of the fact that we had some. That we found it when we needed it to add the "r" to the can of Fat Free Refried Beans my seventh grader was taking to school to use as a prop for a commercial he'd written for an imaginary product that solves an everyday problem!
But the Liquid Paper was completely dried up. We used white paint.
So I pitched the dried-up, useless bottle of an item I had to explain to my children who've never written a formal paper without the benefit of a backspace key.
Are you a hemmer/hawer? What have you pitched this week?
Oh. And did you figure out the imaginary product my son advertised? I'm 41, but I thought it was hilarious.
Podcast (aslobcomesclean-comfeeddailyaudioblog): Play in new window | Download
Subscribe: RSS
Save
--Nony