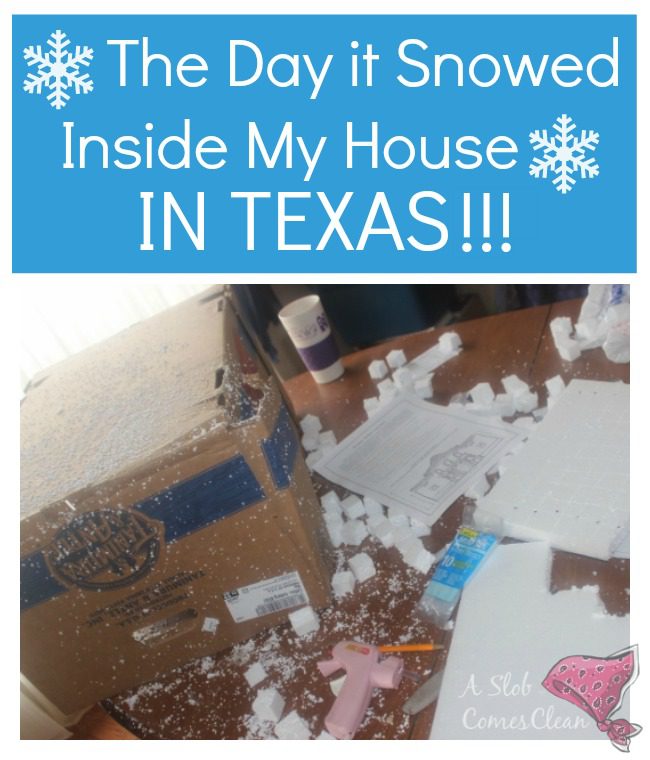 Last Tuesday, I posted this cutesy little pic on Instagram:
Ummm, I planned to spend "some time that morning" cleaning it up.
I'd been putting off cleaning this mess because it just made more sense to wait until my 7th grader was done sawing styrofoam for a school project.
I'm excessively logical like that.
Meanwhile, the static-filled-styrosnow had drifted to the adjoining rooms.
I started by brushing attempting to brush the snow off the table onto the floor. Because I was going to vacuum it anyway. Duh.
Except that didn't really work. Foamlets of snow stuck to me and floated through the air and generally didn't even make it to the floor.
Then I went and got the vacuum cleaner.
It kind of sort of seemed like it was sucking up the snow. And then I noticed the snow coming out the back of the vacuum cleaner . . . with HAIR!!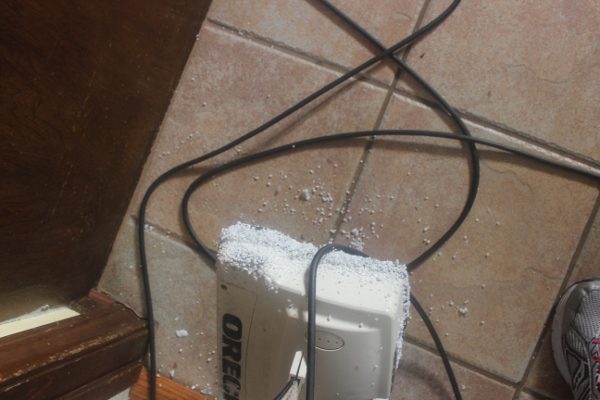 What?!?!?! Oh yeah. That's right. A few days ago, when I used it after cutting a kid's hair, I realized it wasn't working right. Even after I changed out the bag, it still didn't work right. I have vague memories of finishing that job with a broom and dustpan, but I'm pretty sure I thought sticking it in the closet for a few days and pretending nothing was wrong would solve the problem.
Because I do that.
Hope problems will go away if I just ignore them.
But ignoring hadn't worked this time, and now I had staticky foam snow and staticky hair all over my floor. And the BROWNIES were coming!!!
The Brownies were coming, people!!!
And my carpet was bad. Really bad. With no Bible Study OR church home group the previous week, I'd put it off until the last minute, and this was the last minute.
All my handy dandy tools were failing me, so I followed the example of the woman in my life who has never bothered with a gadget: my mother-in-law. No dustpan, no mopbucket, no dishwasher, no cutting board.
Coming from a gadget-loving family myself, it took me a while to realize that new-fangled inventions simply weren't going to be used in my mother-in-law's house. And yet her house was always perfectly neat and tidy.
She has said before (when I asked where her dustpan was) that she just uses a wet paper towel to wipe up the pile when she sweeps.
That seemed like a better solution than sending a pile o' hair 'n styrosnow floating through the air, hoping that a piece or two might fall in the dustpan.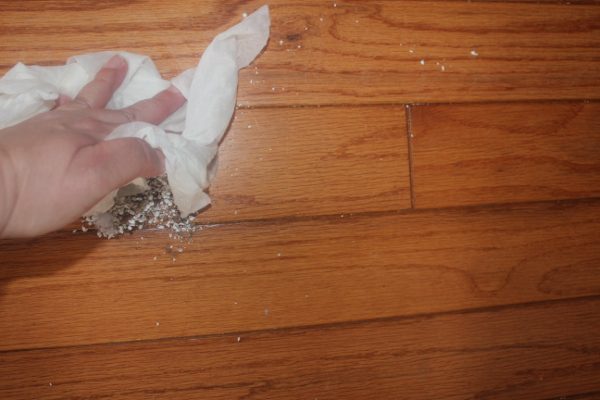 It worked.
Ish.
Even though I had to give up on the idea that I could get it all (or even most of it), getting down on my hands and knees (over and over) to wipe up piles with wet paper towels made a noticable difference.
Now, if only I could have blown up a photo of the "before" scene and pinned it to the wall in the dining room to prove I had really done something.
Not that Brownies care.
Update: I learned on Sunday afternoon that styrosnow is significantly less staticky when mixed with a week's worth of dust. This makes it much easier to sweep into a dustpan. Don't say I've never shared a useful tip.
Podcast (aslobcomesclean-comfeeddailyaudioblog): Play in new window | Download
Subscribe: RSS
iTunes listeners click here.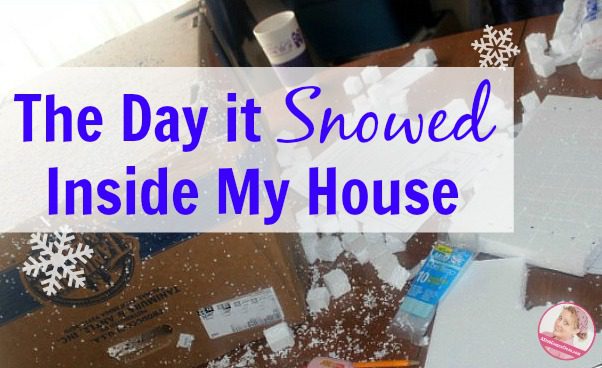 Save
--Nony