Wait. What?
You're offended?
Wha . . . ?
Oh. When I said "Do you know where you can stuff all your great ideas?" . . . you thought I meant  . . . ?
Well, I'm just shocked. Shocked, I tell ya. I simply am asking a logical question about whether you have storage space for your great ideas.
OK. Not really.
That IS what I'm asking, but I did come up with the title because it makes me giggle at its pseudo-offensiveness! I can't seem to stop giggling about it.
Anyway, it's a real question I have to ask myself:
DO I know where I can stuff all my great ideas?
Because I have 'em. Lots of 'em. Great ideas, I mean.
I'm the Queen of Seeing Value Where Others See Trash. And really, that's noble.
But too many times I've seen value without stopping to consider whether I had any room for that value in my home. Or any need for it.
Like that sock. That mateless sock. The one I'm I'm pretty sure I've needlessly washed time and again after it fell, unworn, out of a sock drawer while my boys searched for a paired set.
As I decided this sock had seen its last wash, I realized it would make a great dusting sock! Repurposing to the rescue!! I stuck it in my almost-overly-full cleaning rag "contain"er on top of the dryer. Go me! I'm saving a sock! And the earth!
And then, as I continued pulling whites out of the dryer, I came across another mateless sock. And then one with a hole in it. And another one whose ankle-elastic had seen better days.
And I thought, "Hmmmm. So . . . should I go buy another 'contain'er so I can store all these new dusting devices?"
Except that I already have dusting cloths I like. And while a single white sock might be a nice addition to my dusting tools, four dusting socks would spill over the top of the container and end up back on the floor, then back in the wash, then back as the subject of an angst-filled, oversocked Slob Blogger's post.
So I pitched the others. I kept one (because it fit in the container) and said goodbye to the others.
I didn't have a place to stuff my great idea.
Besides, it's not like I dust often enough that I'm desperate for clean dusting cloths.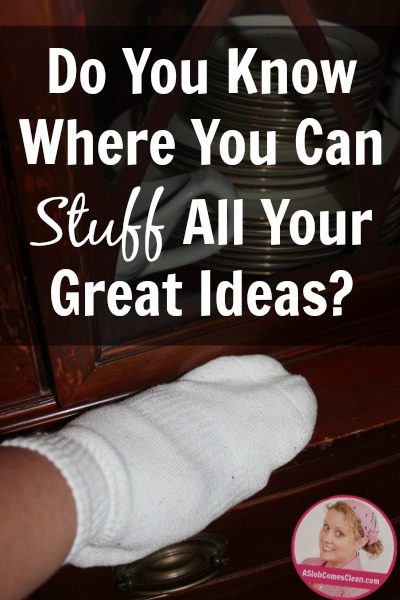 --Nony