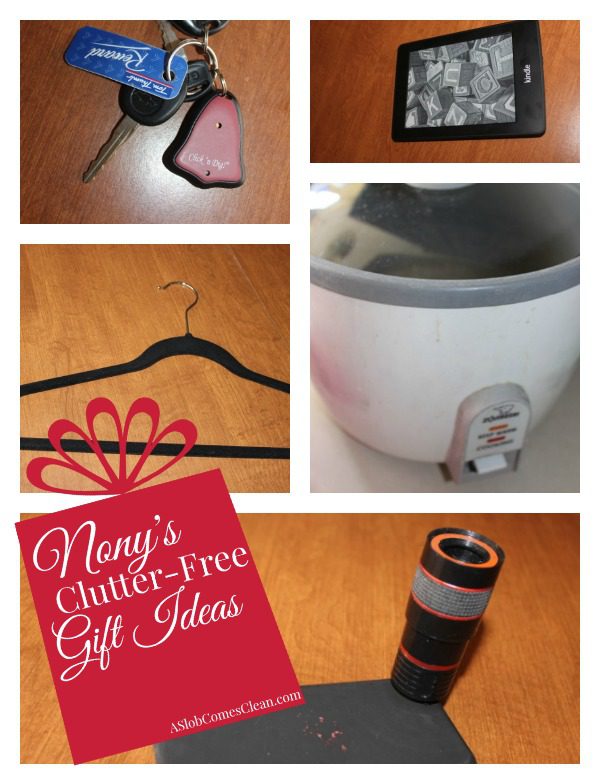 Disclaimer: One woman's Best and Most Useful Gift Ever is another woman's clutter. Think about the person who will receive this gift. I'm sharing some things I love and use all the time and that aren't clutter for me, the Queen of Clutter. Oh. And I'm using Amazon affiliate links. If you click on one and then buy something (ANYthing) on Amazon, I get a small percentage even though you pay whatever you'd pay even if you didn't get there through my link.
A Kindle
I got mine last year. I fall more in love with that thing every day. I can slip it into my purse and have a huge library of books to read with me at all times. As a book-lover that has been awesome. I got the cheapest version (though I paid $20 more to get it without ads on it) and the screen really does read like a "real" book so it doesn't bother my eyes. My favorite thing? I can read in bed before I go to sleep and don't have to flip from side to side to keep the book open. I don't even have to hold the book at all! I just lean it against Hubby's arm or pillow and lay on my side, pushing the button when it's time to turn a page. The biggest disadvantage is that it has to be charged, but I've been shocked at how long it stays charged. (Like, weeks!) This isn't the case at all with my boys' Kindle Fires, but with the basic model, the charge lasts a very long time.
Click 'N Dig Key Finder

I reviewed these in detail in February of '13. Go there to see how they work. They lasted about a year. Then they started beeping at inappropriate times (such as during the prayer in church), so I took them off. But I missed them terribly, so I was so excited to get another set from Click 'N Dig when they asked me to consider including it in a gift list (which I was planning to do anyway).
So, obviously, they don't last forever. But with the way I tend to be with my keys, I'd consider them a decent yearly investment. (The first time they started beeping at random times, I just switched out the batteries. That worked great for a long time, but the second time it started happening, new batteries didn't do the trick.)
I consider these a great gift for the chronic key-loser. I was sent the set that includes three key rings and three stick-on-ables, but I never really used the stick-on ones. I did put one in my purse, but didn't seem to need it as often. I think you're good getting the smaller, key-ring only set.
Smart Phone Lenses – iPhone 5 / 5S Camera Lens Kit
This is kind of a weird one, and totally depends on the person receiving the gift. (It's the bottom picture in the collage above.) I had looked at these before, but I wasn't sure how it would work. The link above is to the 5/5S one (which is different from the 5C), but they make them for all sorts of smart phones. I got mine as a gift when I went to California in September with Dawn. They gave one to each blogger, and we had all sorts of different phones. (They asked about our phones ahead of time, which you should do if you're purchasing for someone else.)
I love it because I never remember to bring my nice camera with the big lens to football games, school programs, etc. Now I just keep the special case and telephoto lens (which is about three inches long) in my purse. I switch out the case, and then the lens screws onto a little hole right at the lens on my phone. I've been able to get close ups of my kids in situations where I never could before, and it's ALWAYS a conversation piece with the other parents in the stands/audience.
Velvet Hangers
I bought mine at Costco on a whim. They truly are awesome. Things that used to slide off hangers now don't. Really. Slippery blouses stay put. I love them. Currently, I'm being stingy and only use them for my own clothes, but I would like to eventually get enough to use for the whole family. Obviously, only certain kinds of people would consider this a great gift, so be careful!
Rice Cooker
I know. This seems like one of those space-taking single use items. I'd agree except that I use mine ALL the time. And I love it. When I lived in Thailand, I started seeing rice cookers like the people in Thailand see them: something every single kitchen must have. It's kind of like coffee-makers are in the U.S. You can totally make coffee on the stove, but why would you?
I use mine at least weekly, and love it because I can put rice and water in it, turn it on, and it cooks it perfectly and then keeps it warm until we're ready to eat. It's perfect for one-dish rice meals like jambalaya. I just dump in the ingredients (even the sausage), turn it on, and we have a meal ready to eat when we get home from gymnastics or football or whatever.
The link above is to the one I have. I got it as a wedding present more than fifteen years ago, and it's still going strong.
Amazon Gift Cards

You can email one to someone, or you can have a physical gift card mailed to them with free one day shipping. Amazon has (pretty much) everything so it's a great way to make anyone happy.
Many of these things have free shipping with Amazon Prime. You can get a free one-month Prime membership here.  This is the perfect time to do the trial because you can do your Christmas shopping without needing to always add to your order to get free shipping. I did that last year, and then forgot to cancel (shocker!) so it charged me for the year's worth of Prime. Honestly, I've decided I LOVE it and will gladly pay for it again. I'll write a post later about all the ways we use it, but let's just say it's really nice to be able to order toilet paper at the exact moment when it crosses my mind that we need it. Then it arrives at our doorstep two days later.
You can also give a year's Amazon Prime membership as a gift: Shop Amazon – Give the Gift of Amazon Prime
What's the best clutter-free gift you've given/received?
Save
--Nony