I stuck an affiliate link in this post. I think it fit.

Yesterday, I shared a project-that-wasn't-actually-a-project. I finally straightened my bookshelf after putting off doing ANYthing because I considered it a decluttering project.
You could totally argue that this project isn't really a project either. That it's simply a matter of putting away and straightening and such.
Except I do call this one decluttering.
It's a spot that grows gradually with almost-but-not-completely-empty-so-should-we-really-throw-it-away bags like this one:
On our trip to Canada over the summer, I introduced Hubby to the wonders of unique Canadian chip flavors and those were his favorites. My favorites (Ruffles All-dressed Chips
which are totally worth traveling from Texas to Canada) . . . didn't have any leftovers.
He loved the Jalapeno Popper chips so much that we hesitated throwing them away in that critical moment when we took them out of the carry-on where we'd stuffed them.
Even though there were only a few and those few were crushed . . .
Even though they were getting a little more stale each day . . .
We didn't pitch them.
But he didn't eat the stale chiplets either.
So they started the pile which grew and grew and eventually morphed into a lunch-making station where no lunches could easily be made.
Because I have an amazing ability to work around such mess, I had to make myself stop. I had to make myself SEE the mess that was causing me Clutter Angst.
And I had to declutter it.
Yes. That mostly meant moving various things to their nearby homes, but it also meant making the decisions about stuff like:
And less than five minutes later: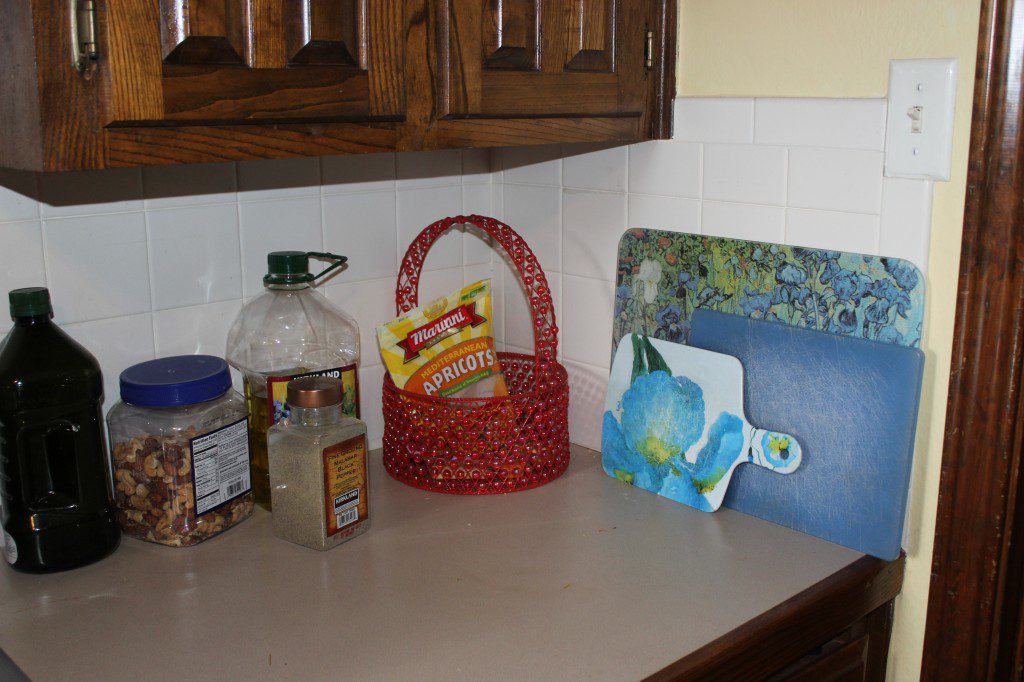 Much better.
Except I didn't wipe down the cabinet before the picture.
Whatever. It's better.
Don't forget the the e-book version of my Printable Checklists. Go here and scroll to the bottom of the page for the purchase button.
Save
--Nony